FIFA COINS

- xbox - comfort trade
Advantages of Comfort Trade to Buy FIFA Coins
The advantages of Comfort Trade when buying FUT Coins are obvious. You will always get exactly the amount of Xbox FIFA coins that you have ordered. This also applies to the WhatsGaming Player Auction, but not to other providers. There you often have to pay the players out of your own pocket that you use for the FUT Coin Transfer. The same applies to the EA Tax. WhatsGaming does both.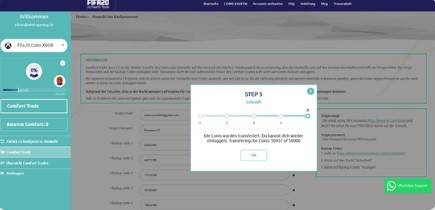 Another advantage of buying Comfort Trade FIFA coins is their ease of use. That should be the same for every website. All you have to do is enter your account details and the Backup Codes. The transfer of the FUT coins can then begin.
The last advantage of Comfort Trade when buying FUT 20 Coins is the time factor. Since you only have to save the FIFA data, this will hardly cost you any effort. The complete transfer of the FUT Coins is taken over by the coin suppliers, while you can sit on the sofa and watch Netflix.
Cheapest FIFA Coins
Where can I find the cheapest FIFA Coins? Since the prices sometimes change daily, it is difficult to identify a specific XBOX ONE FIFA Coin Seller here. In this regard, the market for FIFA Coins is also not transparent enough. There is no good comparison site that compares the prices of all websites with each other, such as Check24. The question of the cheap FIFA coins can therefore not be answered conclusively.
At WhatsGaming, however, you can assume that we can always offer affordable FIFA Coins due to our good purchase prices. However, when choosing the FUT Coin Seller, you should always pay attention to the reputation of the website in addition to the price. What use are the cheapest FUT Coins if you get an account ban after the FIFA Coin Transfer? Nothing! Our advice never buy from private FIFA Coin Sellers, even if they supposedly offer cheaper FIFA Coins.