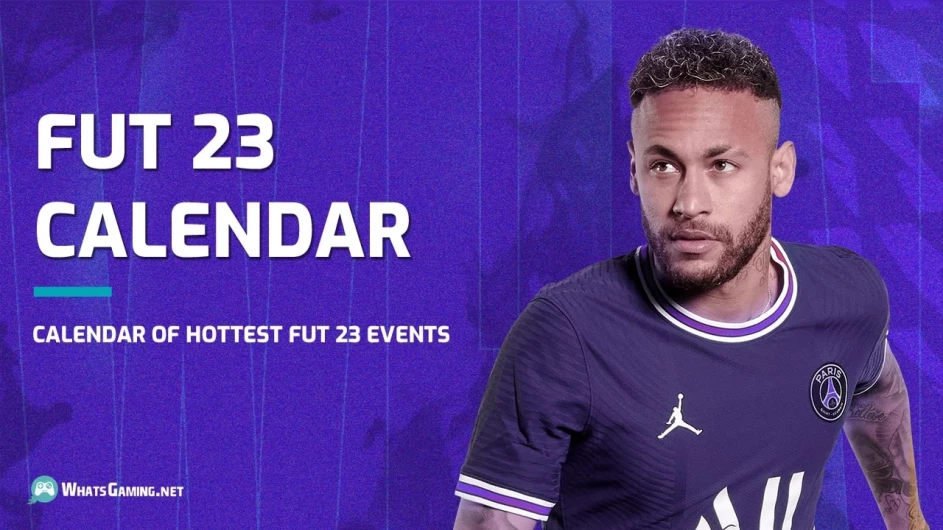 Calendar of FUT 23 Events
Another FIFA season is about to begin and we're eager to know more about tactics and the new chemistry system as we can, so we are able to create an outstanding FIFA 23 Ultimate Team when the time comes. While we do our best to pack our teams with high-rated gold cards from the beginning, soon we're going to need special cards to take our squads to the next level. Fortunately, there are plenty of upcoming FIFA 23 promos to make sure there are a lot of thrilling moments in this season of Ultimate Team.
If you want to know more about FIFA 23 promos and their release date, check out WhatsGaming's calendar of FUT 23 Events.
FUT 23 Calendar
As EA has confirmed, FIFA 23 will start with the Ones to Watch promo on September 30. This event will carry some special cards for players who moved clubs during the summer transfer window. They're expected to make a significant impact on the game as well. There are a series of events that show up every year and at a similar time. For example, Ones to Watch usually unlocks the FUT season, and FUT Birthday is a fan-favorite event that takes place on the calendar around March. Let's take a look at FIFA 23 expected promos in 2022-2023.
September 2022
Ones to Watch (OTW)
Ones to Watch cards are special dynamic item cards that are able to improve throughout upgrades over a year. The release of Ones to Watch will be on the same date as the game officially launches, September 30, 2022.
October 2022
Road to the Knockouts (RTTK)
It's one of many fabulous promotions in Ultimate Team this season. It started on October 15 in FIFA 22, so we predict that this promo starts on the same date or on October 14, 2022, in FIFA 23.
Rulebreakers
Another exciting promo is in October, around Halloween that brings new cards with boosted stats and overall ratings. Rulebreakers Cards are special cards in Ultimate Team that get released as the team drops in the form of new objectives and SBCs during the promo, which will start on October 28, 2022.
December 2022
Team of the Group Stage (TOTGS)
EA will release special cards to the best players in the group phase of international competitions. Also, there will be more TOTGS cards through SBCs or tasks. We expect the TOTGS tickets to be released on December 2nd, 2022.
Freeze (FUTMAS)
FUTMAS is one of the traditional festive events that was renamed to FUT Freeze in FIFA 22 in which during this event, themed player items receive position and permanent stats upgrades to be more suitable for their new positions. It hopefully will launches on December 9, 2022.
Headliners
Headliners are one of those cards that upgrade throughout the season based on the player's real-life performance; meaning they are dynamic and if you intend to buy them with FIFA 23 coins, you'll have to make sure you're aware of their latest price since they update frequently. Headliners promo will publish at the end of December, on 30th, 2022.
January 2023
Team of the Year (TOTY)
Every year, EA Sports celebrates 80 players who have had extraordinary performances in the last 12 months! This is one of the biggest promos in FIFA's life cycle up until now. We predict the promo starts around January 13, 2023.
February 2023
Future Stars
The promo releases a new batch of player cards presenting the world's brightest young footballers, at the age of 23 or below, who have high potential but have not yet become established as Global Stars or never have been nominated for previous editions of Future Stars campaigns. The future starts promo goes live on February 3, 2023.
Road to the Final (RTTF)
FIFA 23 Road to the Final promo releases dynamic player items that have the possibility of an upgrade as teams make improvements through each tournament. RTTF players don't need to have played for their teams to receive any possible upgrades. The campaign goes live on February 17, 2023.
March 2023
FUT Birthday
On every FUT birthday, EA Sports releases new player cards, themed-SBCs, Objectives, etc., and just like other promos, these two weeks of content in honor of FUT's birthday will be a huge help to FIFA players with their squad buildings. We expect the promo starts on March 17, 2023.
Fantasy FUT
On Fantasy FUT, players get dynamic cards that depending on their real-life performances, can be upgraded later on. In this promo, not only does team performance matter, but the players also need to show what they got on the field. This exciting promo starts on March 31, 2023.
April 2023
Team of the Season (TOTS)
The most exciting FUT cards come in this event. In order to celebrate the best players all around the world, TOTS releases several squads from the nominated leagues and a new squad will be released weekly throughout the event. TOTS will start on April 28, 2023.
June 2023
Shapeshifters
One of our favorite promos that made a comeback to FUT 22 after being absent in FIFA 21 is Shapeshifters. The promo changes the players' standard positions and shifts them to something completely different. The shifting will create new and additional stars and therefore, new possibilities for creating a squad. If you want to try out this promo, you'll have to wait until June 16, 2023.
July 2023
FUTTIES
One of the best promos from previous versions of FIFA will be dropped in FUT 23 and we couldn't be more excited to try it. FUTTIES enables the gaming community to vote for their favorite footballer between the Nominees in specific categories. If the player gets enough votes from the community and is selected by FUTTIES, they will receive a pink-colored player card that has boosted stats. The promo will start on July 14, 2023.
Although none of the above promos, except for OTW and TOTW, are officially confirmed to be launched by EA Sports and could include severe changes in details or titles, we predicted these promos based on the FIFA 21 and FIFA 22 cycle of events. Therefore, any changes will be applied to the blog so you can use this calendar as a reliable source. Note that Team of the Week is going to be there, as usual, and the reward system generates weekly rewards for FUT players based on their performances.
We hope you liked this blog. WhatsGaming has applied discount codes on the current FIFA coins prices, so you can buy as much as you need with peace of mind.