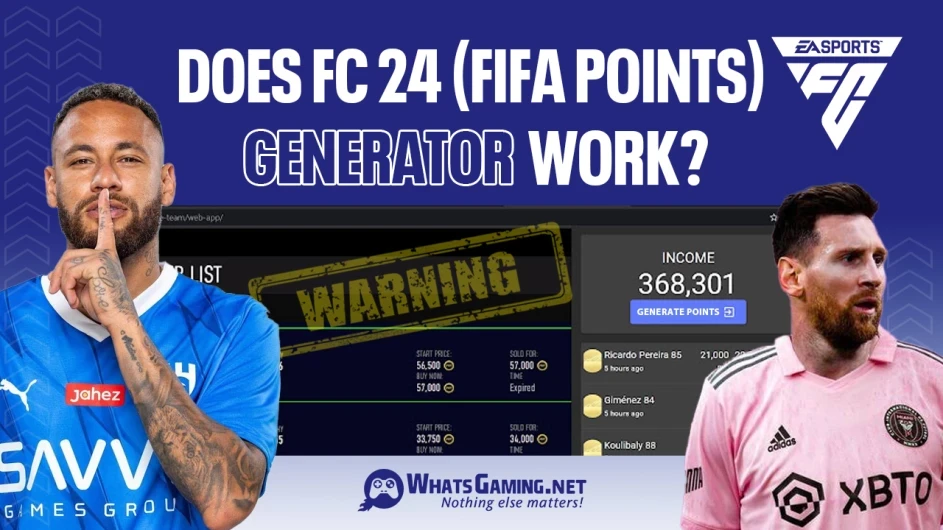 Does FC 24 (FIFA) Points Generator work?
No, FIFA Point Generators do not work, and they are always scams. Electronic Arts (EA), the publisher of the EA Sports Football Club (formerly: FIFA) video game series, strictly enforces its terms of service, which prohibit cheating, exploiting, or using third-party software to generate in-game currency, such as FC 24 Coins. Using such generators can result in severe consequences, including being banned from the game.
It's always best to buy FIFA Points officially through the PSN store or earn in-game currency, like EA FC 24 Coins, through legitimate means by playing the game as intended. EA Sports, the developer of EA Sports FC, may periodically offer events or promotions to help players earn more coins or improve their teams, so keep an eye on their official channels for such opportunities. If you don't want to spend that much time in earning FC 24 Coins, you can use well-known and popular websites like WhatsGaming to buy FC 24 Coins as well
Using third-party generators not only violates the terms of service but can also pose security risks to your gaming account and personal information.
What can happen if using a FC 24 Points Generator?
Account Suspension or Ban: Game developers, in this case, Electronic Arts (EA), take cheating seriously. If you're caught using a coin generator or engaging in any form of cheating, you may face a temporary suspension or even a permanent ban from the game.

Loss of Progress and In-Game Items: When your account is suspended or banned, you may lose all the progress you've made in the game, including your players, coins, and any items you've acquired. This can be especially frustrating if you've invested a lot of time and money into building your team.

Loss of Real Money: Some players might spend real money to acquire FIFA Points, which can be used to buy in-game items and packs. If your account is banned, any money you've spent will be lost, as you won't be able to access the items or currency you've purchased.

Security Risks: All FIFA (FC 24) Points generators and cheat tools are distributed by third-party websites and are not official software. Downloading and using such tools can pose security risks to your computer, personal information, and gaming accounts. It's possible that these tools contain malware or collect your personal data.
In summary, using a FC Point generator or any cheating tool in the game can lead to significant negative consequences, including the loss of your account and the items and progress associated with it.