FIFA 21 Beta for Eager Gamers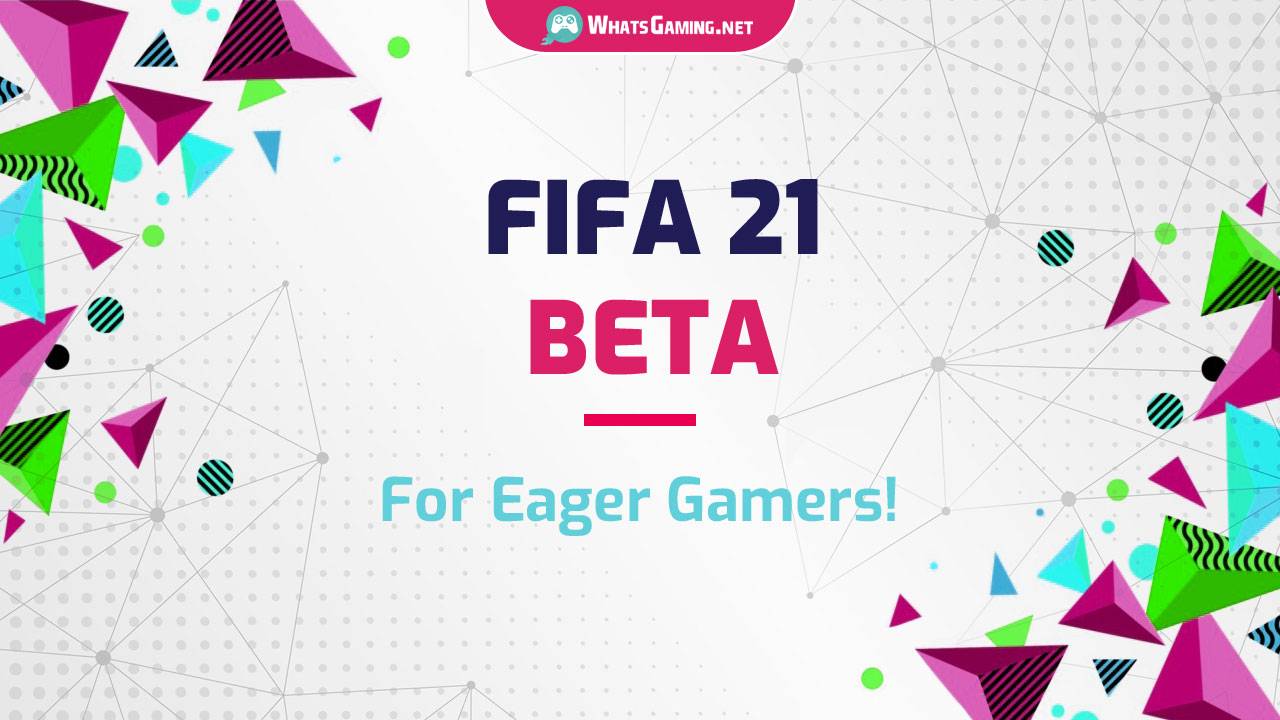 © WhatsGaming
What is Exactly the Closed Beta FIFA 21?
FIFA 21 Beta is a pre-release version of FIFA which is given to random lucky gamers who want to participate in testing the game before it's officially released.
This year, just like previous releases, some gamers were picked around August 14th 2020. So, if you haven't received an email about it already, it means you haven't been chosen. Perhaps next year?
The official release of FIFA 21 will be on October 6th 2020. And lots of FIFA fans are eagerly waiting for their new game, especially that the new version comes for next generation consoles as well, i.e. PS5 and Xbox Series X. But if you have PS4 or Xbox One, FIFA 21 will still be playable for those consoles as well.
What is Beta FIFA for?
The idea of the beta version of FIFA is to test the new game for bugs and gameplay and see how smooth it goes. There will probably be no issues as the game has been technically tested by the developers many times before heading out to the end users, but just to be 101% sure that there will be no glitches or bugs in the end product, this beta FIFA will be a good help.
How will Beta Version of FIFA Work?
Each of the invited gamers will be playing a specific mode in FIFA, instead of having full access to the game. So, for example, you'd be asked to play the Volta mode, or Carrier Mode while other gamers will test the FIFA Ultimate Team mode (FUT) or Pro Clubs.
We introduced a thorough list of new features of FIFA 21 in an earlier blog posts. You may find it useful to see which modes are available for you to play, whether you're a beta tester or just waiting for your full version in October 2020.
If you're interested to know more details about the beta version, gamers from UK or USA can opt to receive the beta version each year. If they're randomly chosen for the beta version of FIFA, they will receive a code via email that they can use in Origin to download a copy of FIFA 21 Beta and play the game. This code cannot be sold, or handed to any other gamer, otherwise you will be blacklisted from buying the new versions of FIFA. That's a harsh punishment for disclosing the beta codes.
Similarly, you're not allowed to live stream or disclose screen shots from the game during testing your beta version of the game. EA would ban your account!
So, if you've been one of the lucky ones and have received the beta version, you're allowed to play FIFA 21 between August 14th and September 1st 2020. After that, the feedback data will be collected by the developers of FIFA and they will modify their product if any necessary changes were found in the beta version.
And the final release of the game will be free of bugs and accessible as of October 6th this year, which is a little late compared to previous years, which is a bit related to Coronavirus and its effect on all schedules these days.