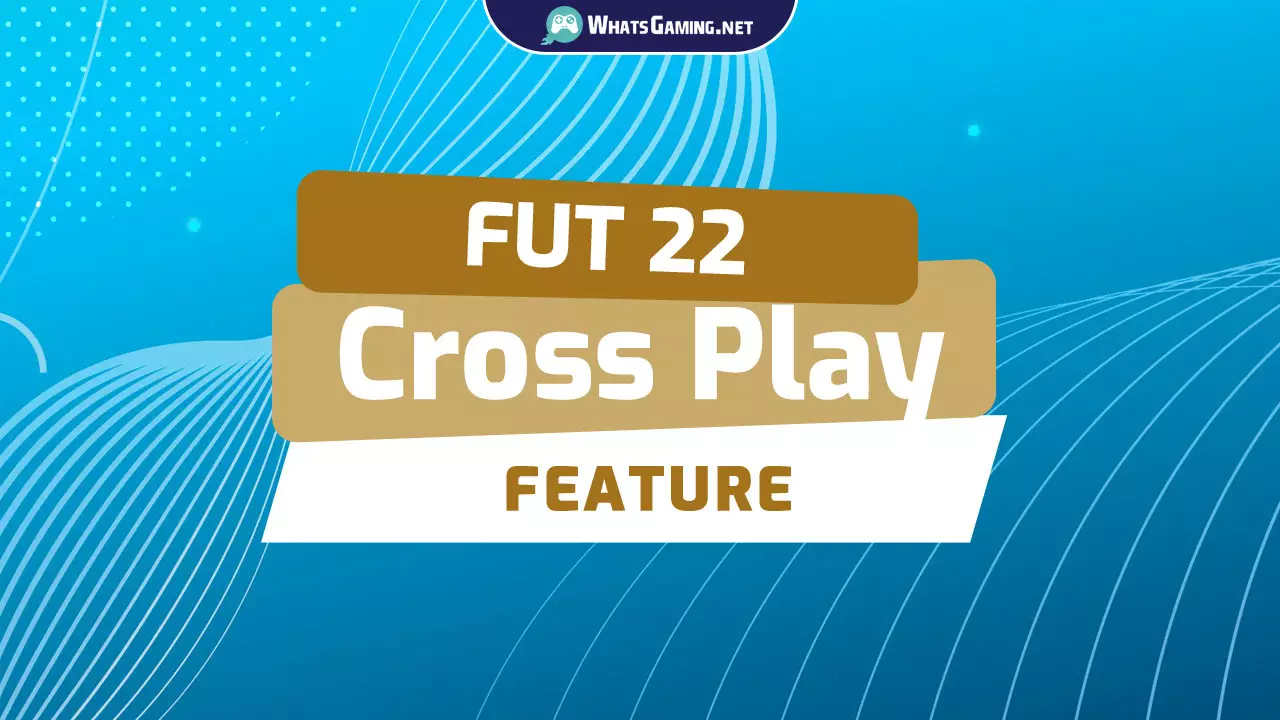 FIFA 22 Cross-play Feature
FIFA 22 new update 10 is here and it's bringing thrilling features with itself. We know some of you have been constantly looking and trying different ways to play with your friends from the other platforms and you couldn't find a solution. Due to the release of the EA's latest official Pitch Notes (May 2nd), you can now expect to see improvements in the gameplay and a possible solution for the issue of not being able to play with other players from varied platforms. We're going to go through the entire Pitch Notes- Cross-play, and see how it works and what modes are available.
FIFA 22 Cross-play
What is Cross-play? Just to give you a quick low down, Cross-play allows you to play with your friends from the other platforms; for example, if you run FIFA 22 on an Xbox, you can activate the Cross-play feature and invite your friends from PS4, PS5, Stadia, etc. to come and join you on a match. A lot of online vide-games such as Fortnite and Apex Legends already have this feature but it's the first time that EA Sports runs a test and brings this mode into the game in the near future. These tests are currently being done in online Seasons and online Friendly. This means that you have the choice to invite or join your friends on other platforms or play the online Seasons Divisions to compete against players who are most likely from other platforms than yours.
Note that the FIFA 22 Crossplay test is available for PS5, Xbox series X or S, and stadia versions for now. Therefore, old generations won't be seeing this feature if they log into the game. But in case you're not interested in participating in the test, you can deactivate this feature by logging back into your FIFA 22, and on the main menu, you will see a widget on the bottom right corner that invites you to play with your friends from other platforms. If you follow the recommended button, you'll see the option to either enable (which is toggled Yes by default) or disable it.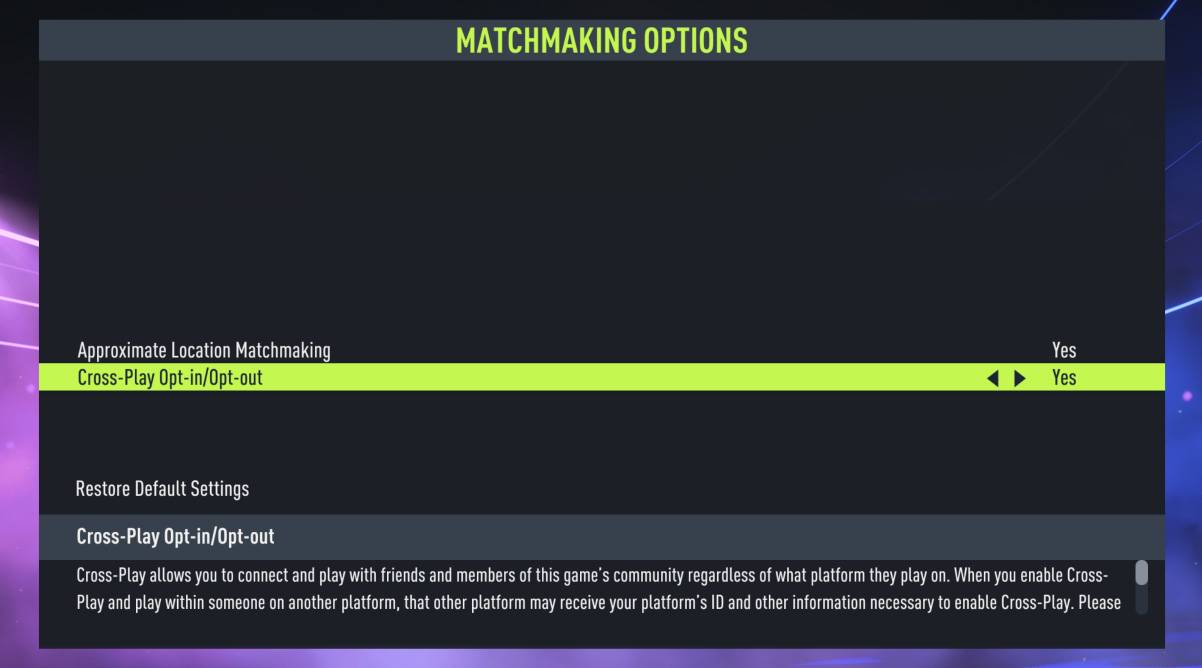 EA Sports also announced that the test has been limited to 2 modes only in order to prevent bringing new issues into the game; so it's probably for the best to not include FIFA 22 Ultimate Team in this test because the markets are completely different and it will be a lot of hard work for just a test! but we hope to see this feature for FUT 22 as well.
As much as we're excited to play with our friends, the problem of a possible delay because of a bad connection is not something to forget about. Once the feature is activated, you can be playing with someone with bad connection hundreds of miles away from you on an online Season Divisions. So it's a good thing that the disabling option is right there if you need it, and you can always control the test participants on the Cross-play menu.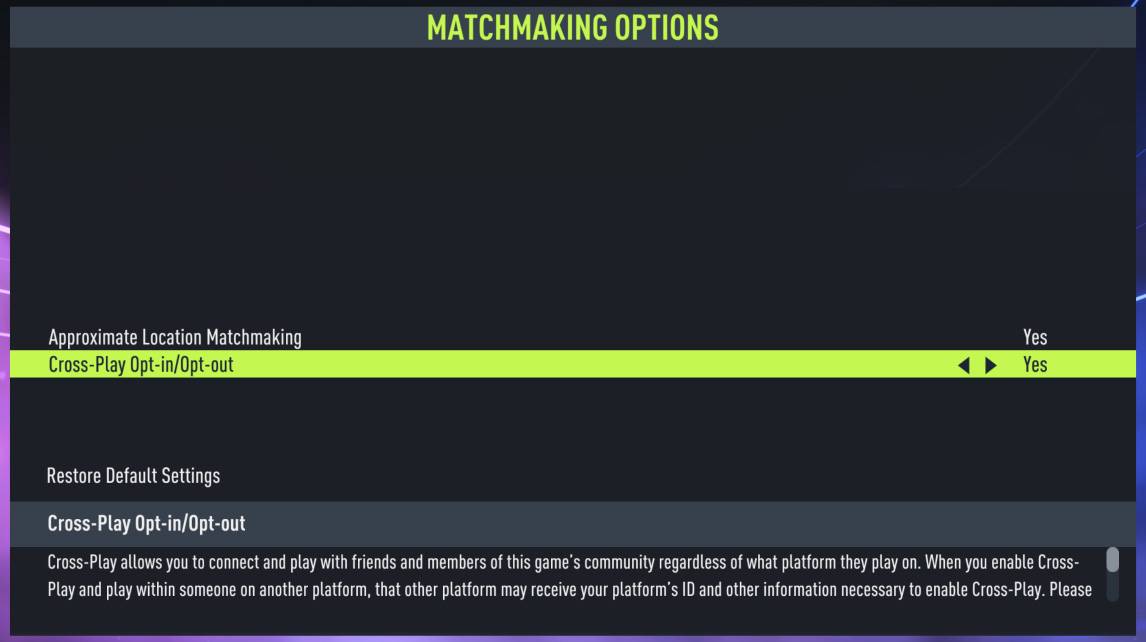 We're excited to see this new next-gen version of FIFA and we hope that they add more options for online playing. Just like any other leaks in FIFA that are always indicated before the official announcement, Cross-play will probably be a feature for FIFA 23!
We hope you enjoyed this blog. Don't forget to read the rest of the blog if you're interested to learn more about FIFA 22 and seeing what promos are coming on our FIFA 22 calendar. If you want to be prepared for future events, visit our store and buy FIFA 23 coins cheap and secure. You can benefit from our many exclusive features such as discounts, refund options, 48 hours guarantee, and more!