FIFA 22 FUT Heroes - How do they work, available cards, and tips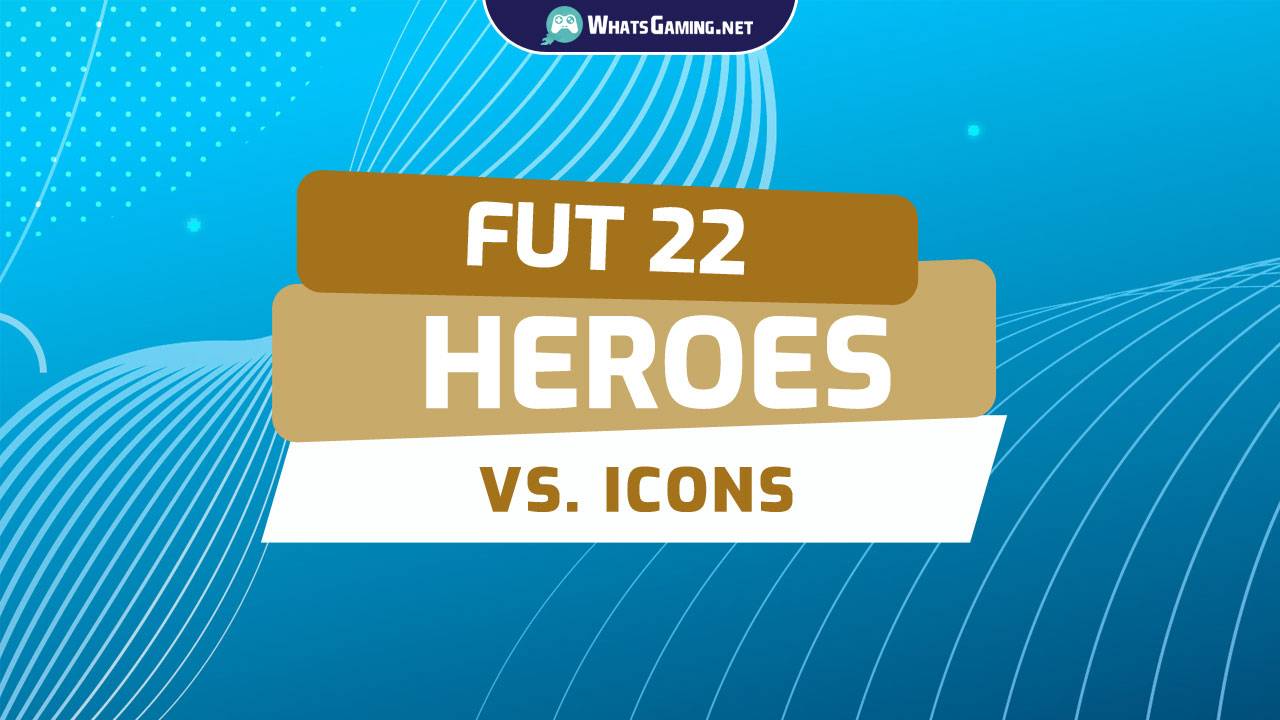 © WhatsGaming
FIFA always introduces new and fun ways to collect cards, especially in FIFA Ultimate Team. One of the interesting aspects of this game mode is playing challenges, or opening packs in order to collect Player Cards. You can also do this in the marketplace. Usually, in order to sign new players for your team and start your XI in FUT mode, you need FIFA coins to access new players from the Transfer Market. We talked about how to manage and increase your coin balance in the previous blogs, but one of the easiest ways is to buy them online. WhatsGaming has always been a safe platform for transferring cheap FIFA coins.
We're here to talk about a new type of Ultimate Team item, called FUT Heroes, how do they work, and which players are currently available.
Introduction to FUT Heroes and Chemistry
FUT heroes are new additions to FIFA 22 which display a footballer from a specific league and his hero moment in the past. This is why it's called FUT heroes and is a great way to create and develop more varied squads. You may question the difference between ICONS and FUT Heroes, which the answer is that the FUT heroes cannot be added to any team, while ICONS can be assigned to whatever team you desire. Fut heroes bring unique chemistry links between players from the same league. Let's say you have a FUT hero card of Milito from Serie A TIM. He will create a green link (indicates a strong link) with a player who shares the same league and nationality such as Martinez. He can also have the same chemistry link with another player from the same league but with a different nationality. However, if he gets linked up with a player from a different league, but of the same nationality, the chemistry link will be weak.
Now that you understand how FUT heroes work, let's take a look at the released cards.
FUT Hero Players
You can get FUT hero cards in packs just like any other cards in the game. They are tradable, which you can sell or buy on the Transfer Market. Sometimes they can be achieved in Squad Building Challenges (SBCs) as packs. There are less than 20 confirmed players who have received a FUT Hero card but there are more. EA Sports will be releasing more cards in future events and promos. Check out the FIFA 22 calendar.
Here is the list of confirmed FUT heroes with their ratings, leagues, and nationalities.
| | | | | |
| --- | --- | --- | --- | --- |
| Number | Player | League | Nationality | Overall Rating |
| 1 | Fernando Morientes | La Liga Santander | Spain | 89 |
| 2 | Abedi Pele | Ligue 1 Uber Eats | Ghana | 89 |
| 3 | Jurgen Kohler | Bundesliga | Germany | 89 |
| 4 | Mario Gomez | Bundesliga | Germany | 88 |
| 5 | Diego Milito | Serie A | Argentina | 88 |
| 6 | Antonio Di Natale | Serie A | Italy | 88 |
| 7 | Ivan Cordoba | Serie A | Colombia | 87 |
| 8 | Jorge Campos | Liga BBVA | Mexico | 87 |
| 9 | Joe Cole | Premier League | England | 87 |
| 10 | Jerzy Dudek | Premier League | Poland | 86 |
| 11 | Aleksandr Mostovoi | La Liga Santander | Russia | 86 |
| 12 | Freddie Ljungberg | Premier League | Sweden | 86 |
| 13 | Ole Gunnar Solskjaer | Premier League | Norway | 86 |
| 14 | Robbie Keane | Premier League | Ireland | 86 |
| 15 | Sami Al-Jaber | MBS Pro League | Saudi Arabia | 86 |
| 16 | Tim Cahill | Premier League | Australia | 85 |
| 17 | Lars Ricken | Bundesliga | Germany | 85 |
| 18 | Clint Dempsey | MLS | USA | 85 |
Get FUT Heroes Free
As you have already figured out, FUT Heroes are very beneficial for a squad and can bring unique chemistry links like no other cards. Although you can acquire them on the Transfer market, they're not going to be budget-friendly, especially for those who just joined the game and want to start their squad from scratch.
EA has revealed a way of unlocking FUT Hero cards via SBCs Heroes Upgrade
There's a repeatable challenge in Squad Battles that requires 83, 85, and 86-rated squads into a three-squad SBC; and will award you a random FUT Heroes Card in return. It's not going to be free, but it's certainly way cheaper than buying the expensive cards directly at the Transfer Market. Another way of getting FUT Heroes for free is for those who have pre-ordered the FIFA 22 Ultimate Edition. They will receive a random untradable FUT Heroes card after December 1st, 2021.
So, here's all you have to know about FUT Heroes. Keep participating in different events and Squad Battles to finally get those valuable Hero cards and create a strong team in FIFA 22 Ultimate Team. You can also buy FIFA 23 coins cheaply from WhatsGaming and quickly purchase these cards for your team!