FIFA 22 Road to the Final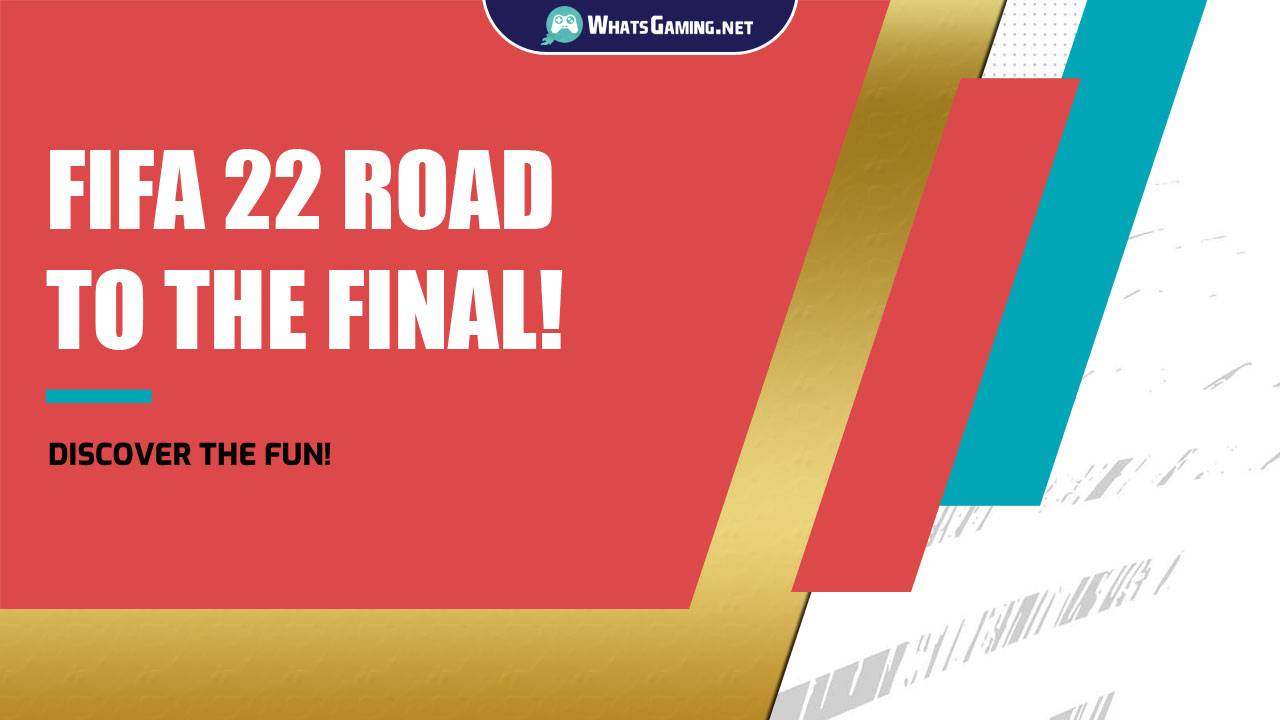 Here we are at the end of the Future Stars and the beginning of the RTTF (Road to the Final). We have got this brand new promo which we're excited to talk about. For those of you who don't know what promos are and how they affect FIFA 22 modes, we have explained lots of previous promos in this blog. So you may want to check them out before reading this one. Previously, we had Road to the Knockout cards. You probably participated and have some of its cards in your club. You can search your available players by using the "Quality" filter in the Player Search tab and choosing Road to the Knockout. As you can see that your RTTK cards are no longer can be upgraded and we're going to explain why and what can you do about it. Don't miss today's blog because it's going to point out some crucial details to help you have a better understanding of this great promo!
Road to the Final
FIFA 22 Road to the Final promo has been releasing dynamic player items that have the possibility of an upgrade as teams make improvements through each tournament. RTTF players don't need to have played for their teams to receive any possible upgrades. When the campaign goes live, in addition to its first round of boosts, each RTTF item has the opportunity of receiving up to 5 additional live upgrades. Therefore, only under these circumstances, an RTTF item can get the additional dynamic upgrades:
Wins the first knockout game after the RTTF promo started (+1)
Reaches the Quarter-Final (+1)
Reaches the Semi-Final (+1)
Reaches the Final (+1)
Wins the tournament (+2)
Earlier, we talked about Road to the Knockouts and promised to explain how it's going to affect the RTTF promo... a lot of people seem to be confused as they still expect an upgrade for their desired RTTK cards. Let's say you've had a Bernardo Silva card from Road of the Knockouts, and since the promo worked as if a team progresses or gets competition wins, they get to the next round and get upgraded, the promo now has ended and their upgrades are finished. Even though RTTK cards cannot get upgraded anymore, whether they were in Champions League, UEL, or UECL, you still have the chance to get them upgraded in this new promo. So if this Bernardo card was also included in the Road to the Finals promo, his previous upgrade before the start of Road to the Finals which was on February 18 won't be counted as an upgrade, and from then, every round that he gets progress, between his first round of matches and winning a competition, is an upgrade.
Road to the Final's ratings
Lots of great and impressive player cards have been released which have the opportunity to come out even stronger if their teams reach the last stages of their individual tournaments. Let's take look at the current ratings for FIFA 22 Road to the Final promo.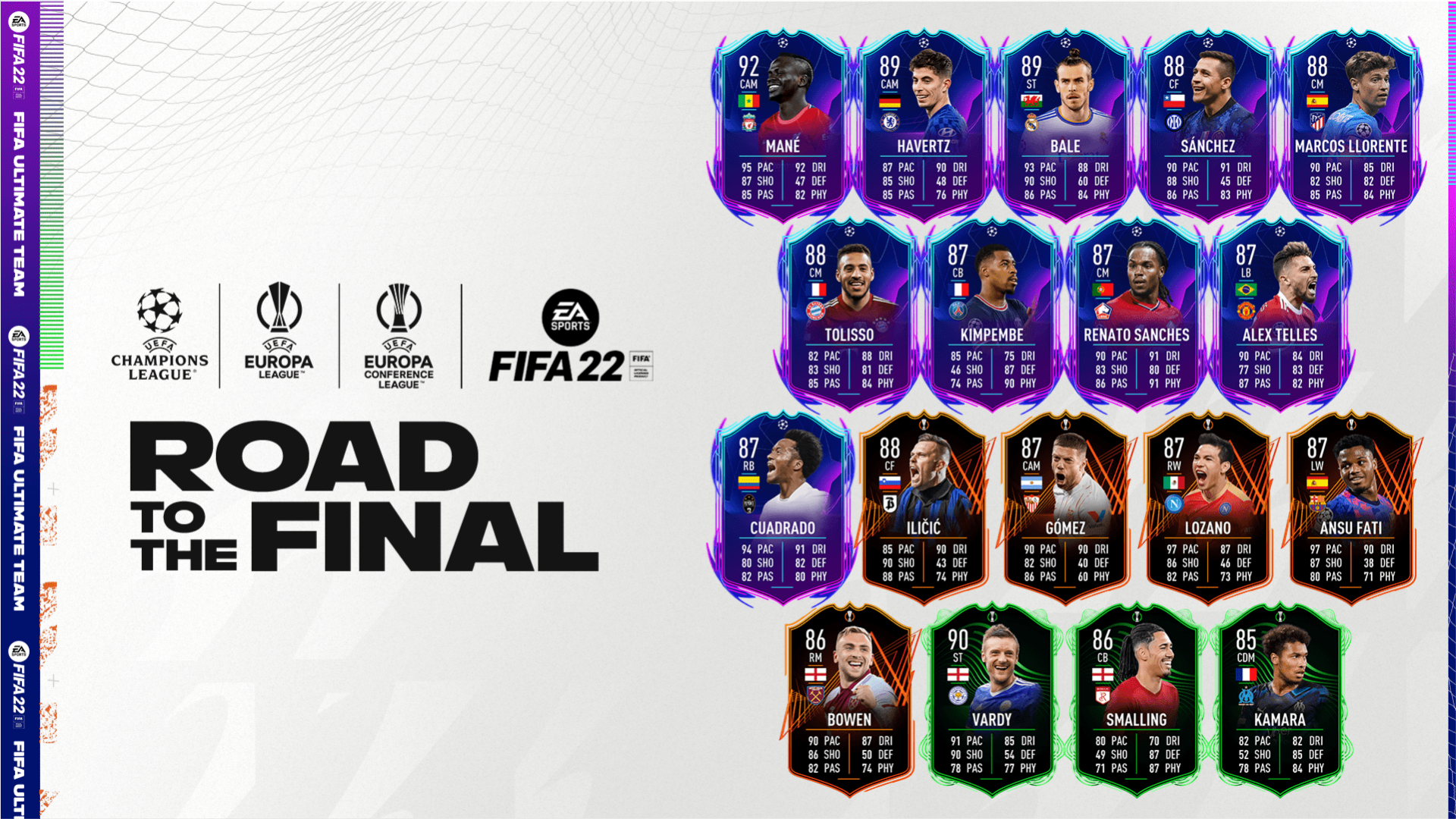 Player

Base Rating

Knockout Win

Quarter-Final

Semi-Final

Final

Winner

Current Rating

Sadio Mane

92

No

Yes

Yes

N/A

N/A

92 > 93 > 94

Memphis Depay

92

Late Release

Late Release

No

N/A

N/A

92

Riyad Mahrez

91

No

Yes

Yes

N/A

N/A

91 > 92 > 93

Jamie Vardy

90

Yes

Yes

Yes

N/A

N/A

90 > 91 > 92 > 93

Thiago

90

Late Release

Late Release

Yes

N/A

N/A

90 > 91

Gareth Bale

89

Yes

Yes

Yes

N/A

N/A

89 > 91 > 92

Kai Havertz

89

Yes

Yes

No

N/A

N/A

89 > 90 > 92

Kyle Walker

89

Late Release

Late Release

Yes

N/A

N/A

89 > 90

Josip Iličić

88

Yes

Yes

No

N/A

N/A

88 > 89 > 90

Marcos Llorente

88

No

Yes

No

N/A

N/A

88 > 90

Alexis Sanchez

88

Yes

No

No

N/A

N/A

88 > 89

Corentin Tolisso

88

Yes

Yes

No

N/A

N/A

88 > 90

Lucas Hernandez

88

Late Release

Late Release

No

N/A

N/A

88

Juan Cuadrado

87

No

No

No

N/A

N/A

87

Ansu Fati

87

Yes

Yes

No

N/A

N/A

87 > 88 > 89

Alejandro Gomez

87

Yes

No

No

N/A

N/A

87 > 88

Presnel Kimpembe

87

No

No

No

N/A

N/A

TAGS

WhatsApp Support