FIFA 22 Team of the Week 17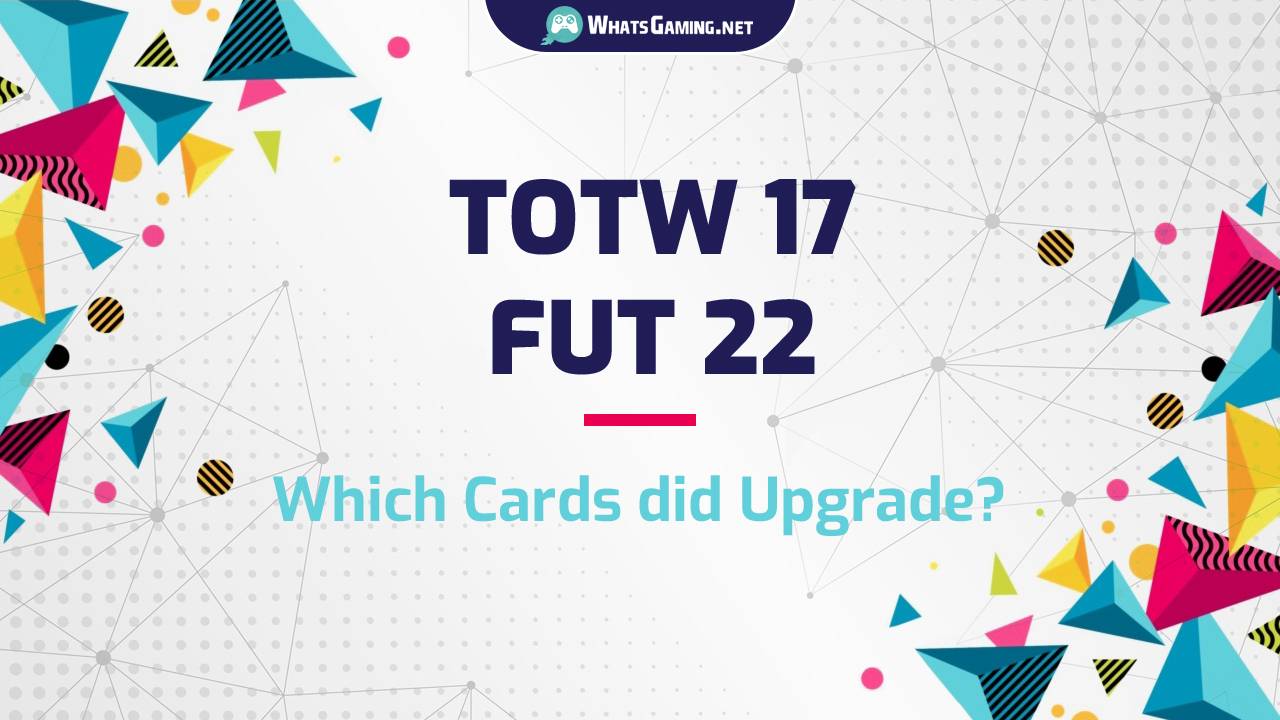 © WhatsGaming
FIFA Ultimate Team was originally introduced in FIFA back in 2009 and since then, it's maintained its position as the most popular game mode. Every week, Ultimate Team releases a series of player cards to celebrate their performances over a week! This tradition was tagging along with FIFA Ultimate Team for a long time and gamers have been happily tracking down these elusive black cards to see what EA brings out on a weekly basis. Seems that with Ultimate Team launching new promos nearly every week, EA knew a change was needed for the TOTW promo to come out stronger. Therefore, FIFA 22's Team of the Week player cards will have a "Featured Team of the Week" to extend their chance of receiving boosted stats. Now we're here to talk about this famous tradition of FIFA Ultimate Team and see which player cards are available.
FUT 22 Team of the Week
We're on the 17th week of the newly released version of FIFA and TOTW cards are now live in packs and player picks. This promo releases a made-up team of players who have great performances. Meaning that players are chosen based on their performances in their real-life games in previous weeks. These players are mentioned on the news in real-world football and get votes and highlights, therefore, FIFA Ultimate Team includes them in Team of the Week, Team of the Month, or the Year to celebrate them. FUT 22 Team of the Week 17 is now with us until January 19th, and that's probably when the TOTW 18 will come out. Each TOTW lasts a whole week until it gets replaced by the next team.
As we mentioned above, EA introduced a brand new way to celebrate these players with "Featured Team Of The Week" items. This feature replaces the standard Team of the Week boost with a larger boost to make them more eligible to those building their teams. Players whose base cards are rated under 80 and do not have any other performance-based card in packs – such as Ones to Watch are eligible for this feature.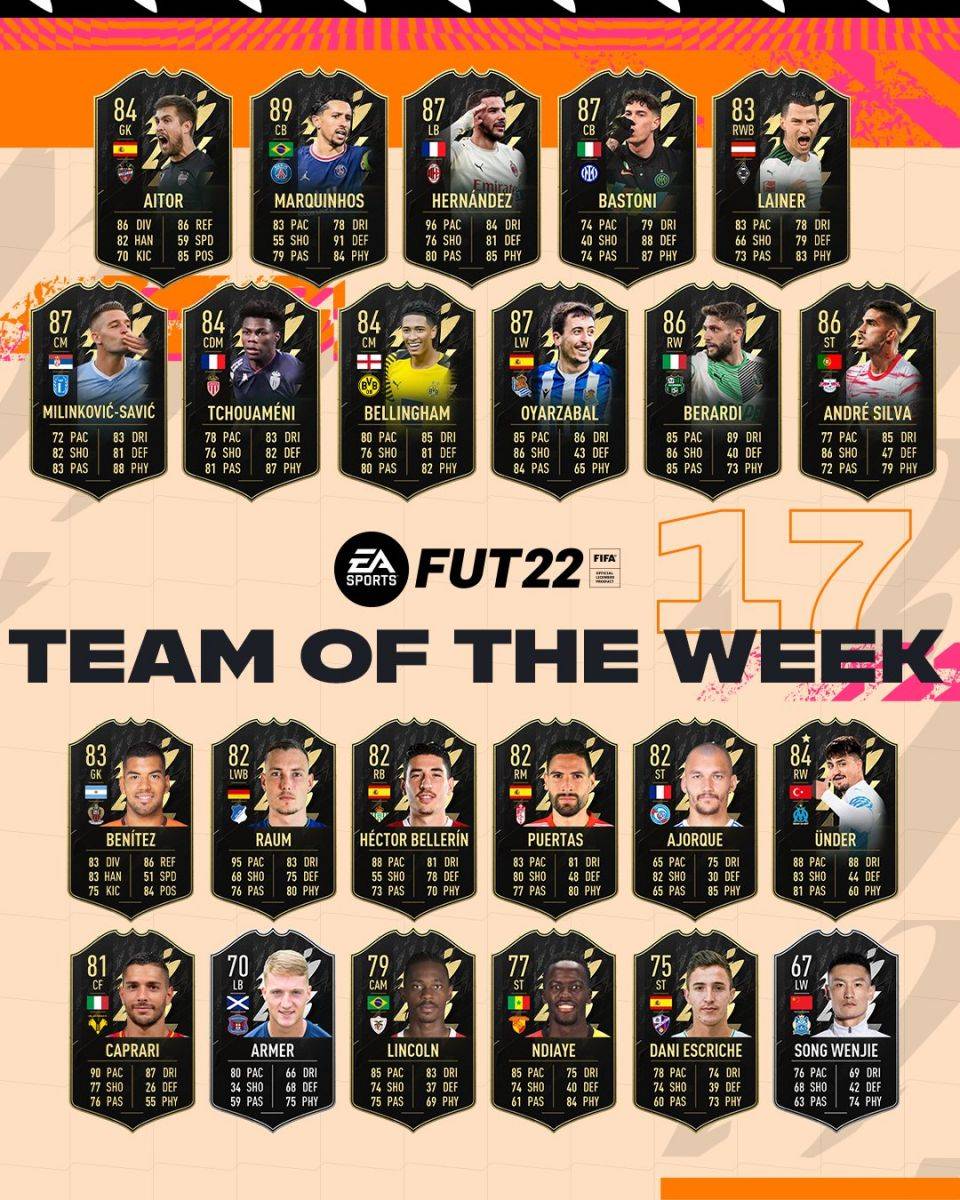 TOTW Released Cards
Every week, EA reveals a made-up squad of 23 men who have had excellent performances. The considered performances could be scoring a goal at the last minute, a great performance from a goalkeeper, and so on. There are some appealing Ultimate Team players among the released cards that you can get your hands on this week! Marquinhos alongside Kimpembe, Theo Hernandez, Jude Bellingham, and Aurelien Tchouameni are chosen for TOTW 17 upgrades! Let's see the starting eleven released cards below:
Marquinhos - 89
Hernandez - 87
Bastoni - 87
Milinkovic-Savic - 87
Oyaezabal - 87
Berardi - 86
Andre Silva - 86
Aitor - 84
Tchouameni - 84
Jude Bellingham- 84 (Featured)
Lainer - 83
Benitez - 83
Raum - 82
Bellerin - 82
Puertas - 82
Ajorque - 82
Caprari - 81
Lincoln - 79
N'Diaye - 77
Dani Escriche - 75
Armer - 70
Song Wenjie - 67
There you have it. All you needed to know about FIFA Ultimate Team tradition, Team of the Week. Be sure to check our blog for daily tips on the latest FIFA 22 promos. You can always count on WhatsGaming for buying cheap FUT coins with great deals. If you're interested in choosing us as your primary coin providers, make sure you check our "Loyalty Program" as you can have a permanent discount on all of your orders for a whole FIFA season.