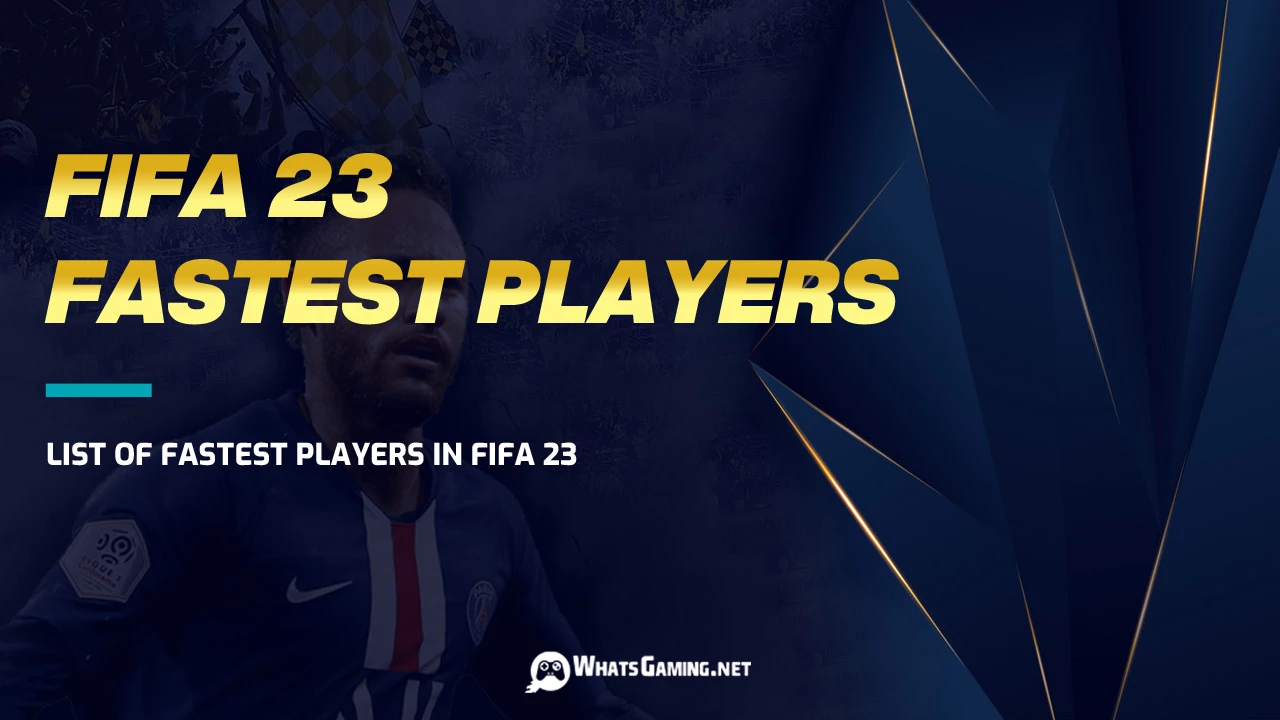 FIFA 23 Fastest Players - Which FUT 23 Players are Worth Buying
FIFA 23 is the next promising version of the FIFA franchise with some major differences from the previous versions. If you're following our blog weekly, you probably know about the changes and this information is not new to you. But in case you didn't have time to follow up on the news, let's have a quick review. This year, FIFA 23 will be much better on PC compared to FIFA 22. That is because the PC users will get a next-gen version of the game; something that was not available last year. In addition, the presence of women's football is another game-changer fact here. You can play with some major women's leagues such as the Women's English Super League and enjoy having them on various modes like Kick off, Seasons, Co-op seasons, Online friendly, tournaments, and World cup. Although you can't play with them on Career mode or FUT 23, obviously it's way better than FIFA 22.
We all know that Hypermotion came with the next-gen version last year; so, with a lot of improvements, this year, it's called Hypermotion 2 which has a machine learning mechanism, and it's going to give you a different experience playing all women's and men's leagues online or/and offline! Hence, you'll have more rapid responses from your players and can get the notion of real-life playing in passing the ball around and/or many other activities on the pitch. Speaking of fast responses, wouldn't it be nice if we packed our squads with a few fast players and create an effective squad before the next installment arrives? We want to talk about this key factor in this article.
Fastest player in FIFA 23
Proposed by EA Sports, two French players are among the best-rated players in FIFA 23. Indeed, Kylian Mbappé and Karim Benzema have a score of 91, the best score in the game which can bring a lot of benefits to one's Ultimate Team! But according to EA Sports' announcement, Mbappe has been named as the fastest player on FIFA 23 with a pace of 97. Although there will be an official statics review on each individual player at the end of the month, for now, Kylian Mbappé with magnificent sprint speed and acceleration is on top of the list.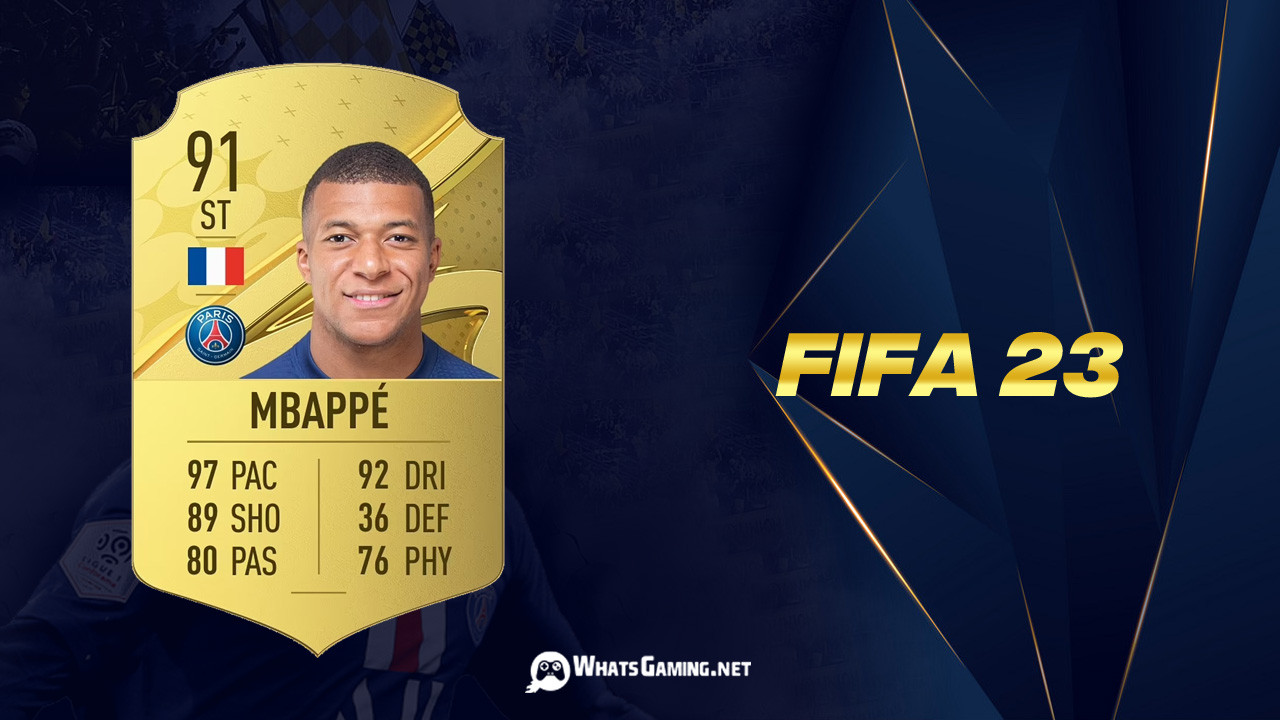 The player is already rated as a 91 on FIFA 23, but with the right improvement through the seasons, could evolve to become a 95-rated player.
Why do you need fast players in FIFA 23?
There are a lot of elements that affect a player's decision when building a squad in Ultimate Team, including tactics, formation, and good players. And buying good players is expensive in terms of FIFA 23 Coins. If you don't pick the right players, you will end up spending hundreds of thousands of FUT 23 Coins with a bad combination of players. One key element that most FIFA players focus on is speed and pace which is overrated and paying attention to all of a player's attributes along with the pace is essential. Not every player in your team has to be fast and only having one or two fast players in different positions can do the trick for you. Just like in real-life matches, the ability to read the game and strength are necessary elements to define whether a player is a professional player or not. For example, having a 70-rated speed striker with pinpoint precision could guarantee to score a goal every time but you might have a 90-rated Pace wing-back who gets into an ideal crossing position and messes up the presented opportunities! So having only fast players is not a guarantee of success.
Some of the fastest players in FIFA 23
The list can be very long because there are fast players in each position, but we only selected the most popular ones for you.
| | | | |
| --- | --- | --- | --- |
| Position | Player | Overall Rating | League |
| ST | Kylian Mbappé | 91 | Paris Saint-Germain |
| LB | Alphonso Davies | 84 | FC Bayern München |
| RW | Adama Traoré Diarra | 78 | Wolverhampton Wanderers |
| LW | Vinícius Júnior | 86 | Real Madrid |
| RM | Daniel James | 77 | Leeds United |
| RM | Rafa | 82 | SL Benfica |
| ST | Iñaki Williams | 81 | Athletic Club |
| LW | Moussa Diaby | 81 | Bayer 04 Leverkusen |
| RW | Ismaïla Sarr | 78 | Watford |
| LW | Frank Acheampong | 77 | Shenzhen FC |
| LM | Georges-Kévin Nkoudou | 75 | Beşiktaş JK |
| LB | Theo Hernández | 85 | Milan |
| RW | Ousmane Dembélé | 83 | FC Barcelona |
To sum up
There you have it. The fastest FIFA 23 players among others. According to the FIFA community, Kylian Mbappe, Adama Traore, Alphonso Davies, and Vinicius Junior are the fastest and the most practical players in FUT 23 when it comes to creating a team. You're a lucky gamer if you get these players via FUT rewards because according to FUTWIZ, Kylian Mbappe is valued at more than 42K FIFA coins in FIFA 22 FUT market and probably going to be more expensive in FIFA 23. So, unless the budget is affordable to you, you have to wait for the game to reward any of these fast players to you.
One quick solution for FIFA 23 coin shortage is to purchase them online. WhatsGaming offers cheap and safe methods of transferring FIFA coins without getting banned. As the best FIFA coin-selling website, WhatsGaming has successfully transferred millions of coins since FIFA 16 and is proud to continue its work for FIFA 23 players as well.