FIFA 23 Gameplay Details and Pre-order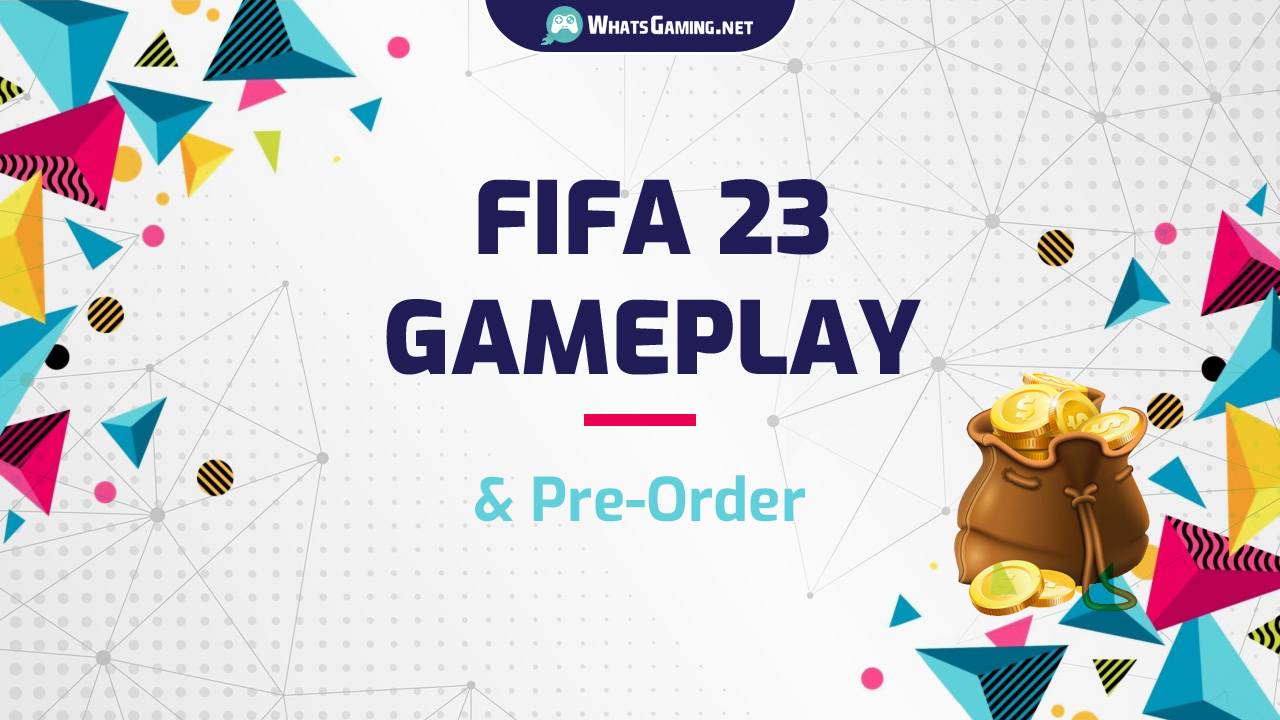 © WhatsGaming
Discover here our article summarizing everything we know and everything important to know about the new FIFA 23. The last game of the series that is developed by EA SPORTS™ (before becoming EA Sports FC in 2023) will be available in September. WhatsGaming presents the latest leaks and updates, as well as all the official information about this soccer game. There looks to be plenty of reason for fans to be excited about, including another FIFA 23 trailer regarding the Career mode this time. We're going to cover everything here so make sure you stay with us till the end of this article.
What We Know About FIFA 23 So Far
It's been just a week or so after Kylian Mbappé and Sam Kerr were on the cover art of the game, and we already wrote about the game features, trailer, and everything you need to before starting the game. So let's review what we know so far:
FIFA 23 will be released on September 30 (and as early as the 27th in early release). It will be available on PS5, PS4, Xbox Series, Xbox One, PC, and Switch. All the licenses from FIFA 22 will be present, Juventus is also back. The World Cup will be present in the game, as well as all the selections present in the competition. New ICONS and FUT Heroes cards are going to be released in the game.
Cross-play will be present, including on the FUT mode, but no Cross-play Co-Op on this mode (two players will have to be on the same platform to cross-play FUT). The Transfer Market will be the same for consoles but the PC and Switch versions will not be included. The PC version will benefit from the next-gen hypermotion2.
If you want to read these features in detail, click here. However, we want to know more about the gameplay. What's different than the last year? How the game has improved in some important modes such as Ultimate Team and the Career mode? We'll figure it out in a bit.
FIFA 23 Gameplay
The Hypermotion tech has scanned real-life footballers, including female players to make the on-pitch actions look even more realistic. As excited as we all are excited to figure out more about what this technology would look like in FIFA 23, we also want to know what has changed regarding the gameplay of the game.
FIFA World Cup™
EA SPORTS™ confirmed the presence of a World Cup mode in their upcoming release of the new series of FIFA. According to what they said, the new feature will allow gamers to "Experience an ideal international football with the FIFA World Cup Qatar 2022 and FIFA Women's World Cup Australia and New Zealand 2023". EA Sports™ has also mentioned that these World Cup modes will be made available as post-launch updates free of charge. So before the real World Cup begins, gamers have a few months to adapt to the new game and enjoy it!
Women's Club Football
FIFA 23 has placed Sam Kerr on the FIFA 23 cover. Of course, you could have played as women's national teams in the previous version of the game, but bringing the play to the club level is something that happened for the first time in FIFA 23. Two official leagues are going to be included in the FIFA 23 women's clubs: Barclays FA Women's Super League and Division 1 Arkema. Fortunately, the women's teams are going to benefit from the HyperMotion2 just like men's teams! So as you can see, there is plenty to get thrilled for. But what clubs are going to be available to play?
Barclays FA Women's Super League Clubs:
Arsenal Women
Aston Villa Women
Brighton and Hove Albion Women
Chelsea Women
Everton Women
Leicester City Women
Liverpool Women
Manchester City Women
Manchester United Women
Reading Women
Tottenham Hotspur Women
West Ham United Women
Division 1 Arkema Clubs:
ASJ Soyaux-Charente
Dijon Football Côte d'Or
En Avant Guingamp
FC Fleury 91
FC Girondins de Bordeaux
Le Havre
Montpellier HSC
Olympique Lyonnais
Paris FC
Paris Saint-Germain FC
Rodez
Stade de Reims
We still don't know if any of the women's clubs' players will make it to FIFA 23 Ultimate Team mode, but since women have domestic competitions included in the game, now the chances are higher than ever! But until official announcements, we wouldn't know anything for sure.
FIFA 23 Ultimate Team
This mode still is one of the fan-favorite game modes in FIFA history. Players will be able to create their dream teams using their FIFA 23 coins, participate in the Weekend League, and play against other players just like before. Every year, with the release of a new FIFA, the Ultimate Team gets updates and some minor changes. New FUT moments will help you build your squad on a new level.
We all know that FIFA Ultimate Team cards are nothing without Icons and Heroes. Having them in your packs at the beginning of the season will help you a lot. These special cards are always good for selling in exchange for FUT coins at the Transfer Market and since they're rare, can be very beneficial. According to some leaks, there will be a total of 105 new ICONS and 17 Heroes in FIFA 23 Ultimate Team. FUT Heroes were introduced in FIFA 22 and since the community loved the idea of this new feature, EA is going to upgrade the week cards and continue the process in FIFA 23 with the World Cup versions.
We talked about how the cross-play feature is going to be available in FUT Transfer Market before. In a nutshell, the consoles will have one shared Transfer Market when using this feature is enabled which will multiply the trading opportunities and effects price developments.
One big change of Ultimate Team in FIFA 23 would be the removal of FUT Chemistry links with the colors Red, Orange, and Green. There will be a chemistry star system and players will no longer need to be placed straightly next to each other to benefit from their overall chemistry. As the leaks confirmed, there should be no more chemistry and if they're rated with 3 stars, it means that they got the maximum chemistry link.
To mention more upgrades in this mode, we can count on a new update for the Web App and the Companion App every year. The Web App could be useful for managing and improving your FUT squads, completing SCBs, trading players on the Transfer Market, and opening packs.
FIFA 23 Career Mode
There is a released trailer specific for the Career mode with the title of Career Mode Deep Dive that includes some summary clips for many sections of this mode! The idea behind the career mode upgrades was to let the players have the freedom of choosing how they want to approach this mode. Whether in gameplay or customizing. A new gameplay structure in Career Mode that is called Playable Highlights is designed to give players more control of the key moments. As a manager, you can decide to play all of the highlights in a match or only the attacking ones. Playable Highlights suggests 2 options: managing the entire team or participating as a player to begin your career.
Note that by choosing to play maintaining only your player, the system will only show highlights that your player is actively implicated in while fixing other highlights in the background. Playable Highlights adjust to either being a starting XI player or a bench player. Other upgrades are about fixing the career mode menu issues to create a faster and more viable atmosphere for players.
More FIFA 23 Upgrades
FIFA Stadiums, no matter the size can impact your experience, therefore, it's important that your stadium's atmosphere represents your home ground and needs to be perfect in FIFA 23. Hyper-realistic pitch surfaces are going to help us create a memory of a brilliant match in our favorite stadiums. There are some stadiums such as FC Barcelona's Camp Nou and the Allianz Arena, which we are missing since FIFA 20, that might make a comeback in FIFA 23. Of course, nothing is clear until EA confirms the rumors. Also, Pro Clubs and Volta Football are also getting new customizations, along with upgraded styles and improvements which the details are yet to be announced.
Pre-ordering the game
You could pre-order FIFA 23 from July 20th (before September 27th) and get access to Standard and/or Ultimate Editions. If you pre-order the Ultimate Edition version, you'll get the chance to play the game 3 days in advance earlier than the release date of the Standard Edition. You also can get discounts on your purchase by visiting FIFA 22 main screen and then going to the bottom right tab where it says "Pre-Order FIFA 23". After that, you'll be redirected to the store page (depending on your platform) and from there, you can pre-order the game with 10% off the main price.
Each version has its own perks but we briefly introduce each of them here:
FIFA 23 Ultimate Edition
3 days early access (Sept 27)
Limited Time Only: 1 x FIFA World Cup FUT Heroes Player Item
1 x Ones To Watch Player Item
1 x Team of the Week 1 Player Item
4,600 FP (Points)
Kylian Mbappé Loan Item for 5 FUT matches
FUT Ambassador Loan Player Pick (Choose between Davies, Son, and Vinícius Jr.) for 3 FUTvmatches
Career Mode Homegrown Talent
Dual Entitlement
FIFA 23 Standard Edition
1 x Team of the Week 1 Player Item
Kylian Mbappé Loan Item for 5 FUT matches
FUT Ambassador Loan Player Pick (Choose between Davies, Son, and Vinícius Jr.) for 3 FUTvmatches
Career Mode Homegrown Talent
Dual Entitlement
For now, that's all we know about FIFA 23 gameplay details. Hope you enjoyed reading another blog about FIFA 23. WhatsGaming posts daily Instagram updates and weekly news about the game, so make sure you come back to find out more!