How to Unlock Transfer Market on Web App & Companion App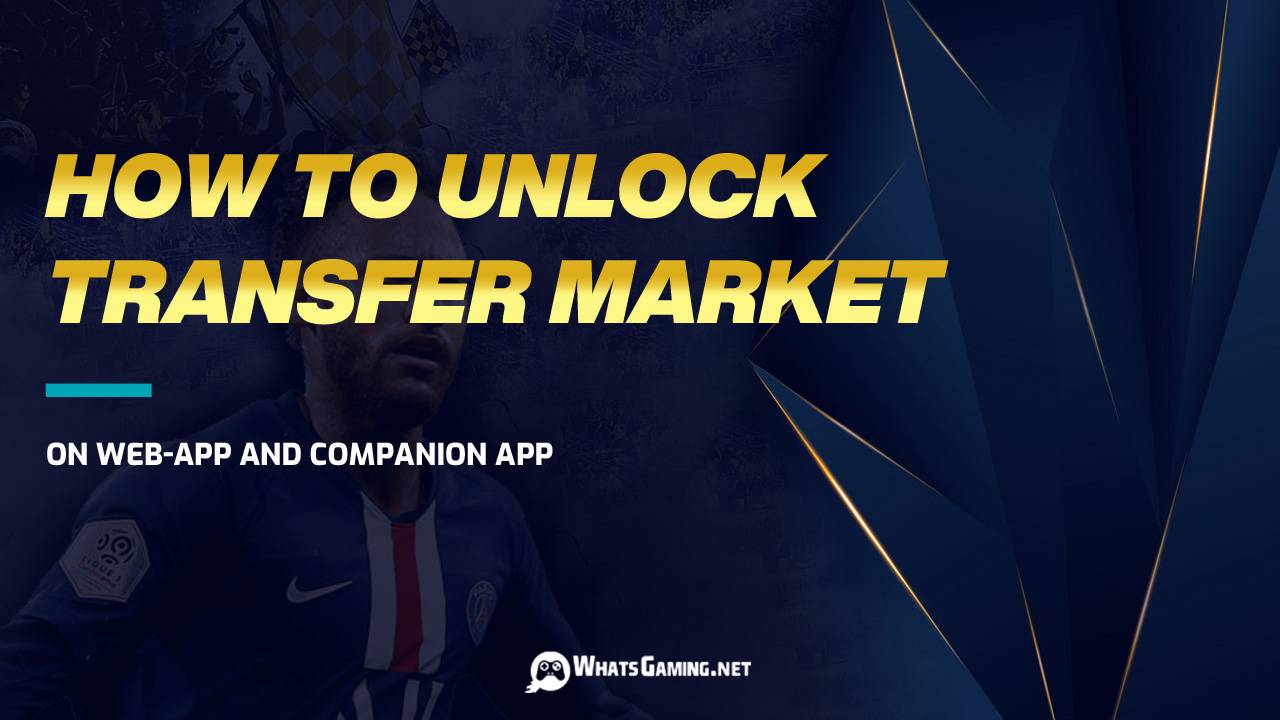 © WhatsGaming
Players who are new to FIFA or just have started to use Web App and Companion Apps, may come across such error on the App: no access to the Transfer Market. This is preventing you from buying and selling items, eg. players, consumables, etc. on the market. This issue could happen even if player's never have been banned or faced restrictions. It could be really annoying since it stunts your progress when you try to trade and get a team!
The Transfer Market is available in the game, though, since the beginning. That means, you can pay with FIFA Coins or FUT Points and buy players from the market on your console. But however, you can't use the market on CompanionApp or WebApp.
Why Transfer Market Should Be Unlocked?
It gets important when you're trying to buy FIFA coins, because the preferred transfer method is Comfort Trade, and it requires WebApp to be unlocked. You can't buy any FIFA Coins if you don't have a working market on WebApp, unless you use Player Auction, which is more complicated and you may not be comfortable with it, as it requires some practice.
So, if you're one of those enthusiast FUT traders, or if you need some coins to put in your FIFA account simply because you're frustrated with playing and earning the coins slowly, and you want to form your dream squad that has Mbappe, Ronaldo, Messi, and hopefully some amazing old-timer Icons, you may be interested in gaining access for transfer market on WebApp so you can buy Fut coins and beat those opponents in Squad Battles.
What is FIFA Transfer Market INDEED?
FUT Transfer Market, is a virtual place where players can buy and/or sell their tradable items, like Players, Cards, Club items, etc. based on auctions. You can find many player cards on this market and increase your teams' Overall Chemistry Rating. You can set various filters to find your ideal footballer; for example, you can search by Players' Names, League, Nationality, Chemistry Style, Position, Quality, etc.
The Transfer Market can be easily located under the Transfer Options on the FUT Hub Home screen.
The Web App or Companion Apps' Transfer Market works the same, but if you can't perform any actions and you keep seeing this message, then you need to follow a few simple steps in order to unlock this feature on your app.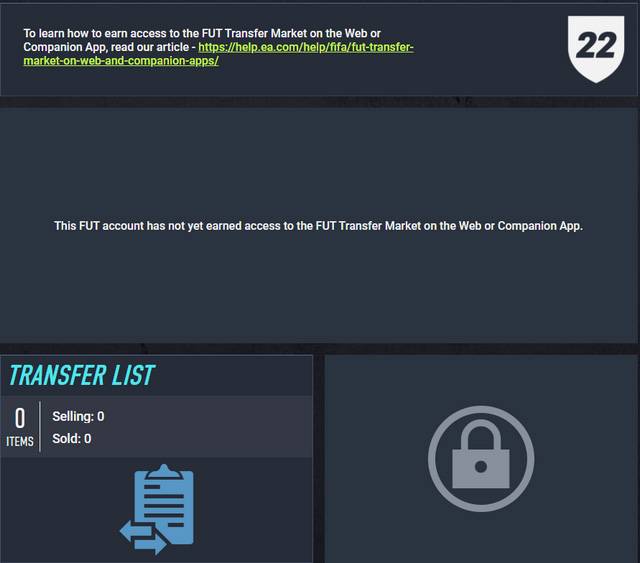 How to fix the Transfer Market issue on the Web App
Basically, playing FIFA for 2-3 weeks should unlock transfer market and remove the restriction. You can find the official article from EA in this page that gives you general information about how to lift the restriction and gain transfer market access on WebApp and CompanionApp. But some times, no matter how long you play the game, it just does not get unlocked.
Then, the first thing is to realize if you have been transferred banned in the past, especially if you have been permabanned from the Transfer Market with your current active account. Sometimes the agents refuse to give you access to use the Transfer Market and the reasons are unknown. Probably some restrictions or warnings regarding your disobeying the FIFA rules, or the number of your actively participating days in FIFA Ultimate Team may have caused this warning. Another possibility is that you didn't play FIFA on the same console or simply used two different accounts for playing the game and using the Web App. So if you are in the current situation, as far as we are concerned, you can try your luck and follow these steps to see if you can unlock the feature successfully.
First thing is that you should have logged into your FIFA account on October 17th to be able to use the Web App. Even if you hadn't purchased the game at that time, you could have used your friends' account to log in, if they do use the same console as you do. Now follow these steps:
First, log into your account which is linked to your game at this address: https://help.ea.com/en/eadp_check/login/
After logging in successfully, head back to the home page at: https://help.ea.com/en/
Click on "Contact Us"
It will direct you to a new page where you can select your game, which is FIFA.
Next, you can see a list of platforms that support FIFA, you need to select your console which is linked to your FIFA account.
By default, it will recognize your platform, but you can change it if it's wrong.
At the bottom, you need to select a topic, which in this case is "Manage my account".
Next, you need to select an issue for your topic, so select "Transfer Market Access".
This will show you a new page where you can email EA Sports and politely ask them to remove the Transfer Market limitations and give you access.
Tip 1: If you want to talk to EA Sports directly and don't want to wait too long for the results, you can actually repeat the above steps, but instead of choosing Manage my account as your topic, choose "Missing Content" and then select "Never received content" as your issues. This will direct you to a live chat and talk to them about your issue.
Tip 2: Depending on your account's status, it could take a while to be able to access the Transfer Market. They will send you an in-game message when you log into your account regarding your demand, and you can check the Web App to see if you can use the Market or not. The best thing to do is hit different game modes, spend time on the FUT and use the Transfer Market on your console. Check back on the Web App every now and then and the access will automatically get unlocked for you.
We hope these methods help you to get back to the Transfer Market and start trading some FUT coins soon! If you need more help in order to make more coins in FIFA, you can read the rest of the blog or simply buy FIFA coins using our current discount codes to get 10% OFF of your orders.