How to Transfer FIFA Coins with Comfort Trade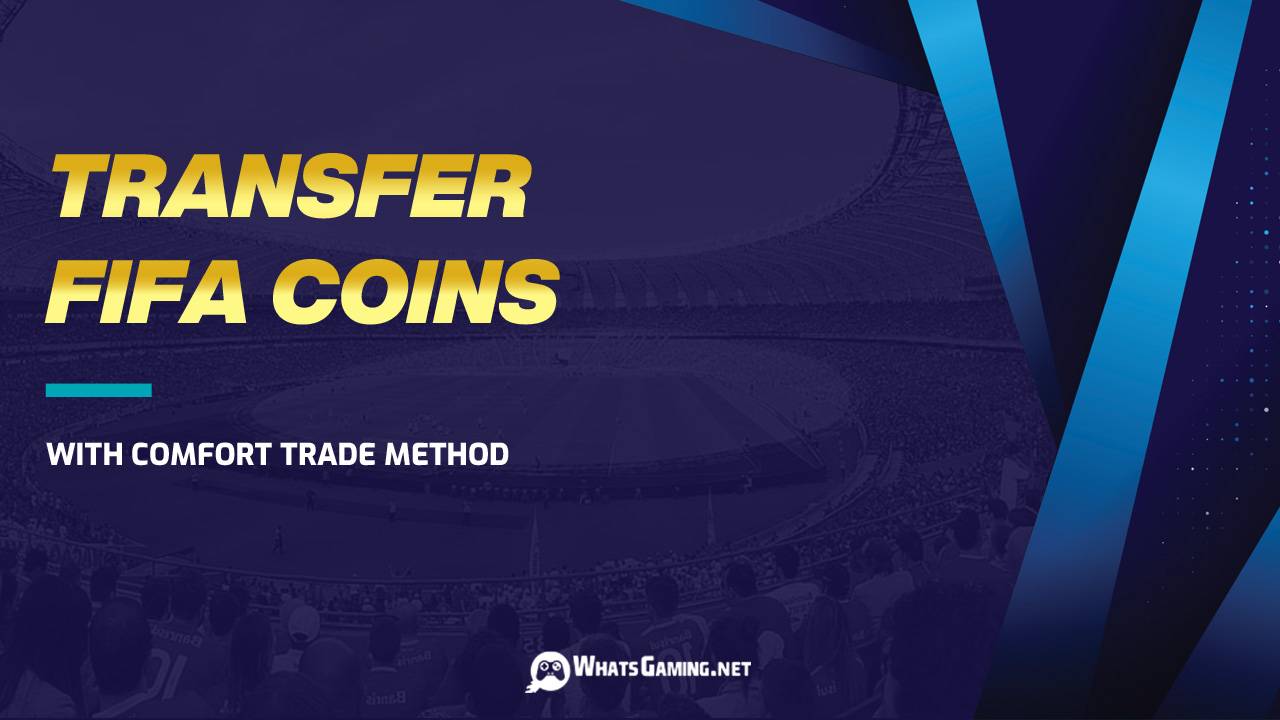 © WhatsGaming
Coins are the main and the most valuable currency in FIFA and are utilized to purchase cards, items, consumables, etc. in the Transfer Market. You need to have FUT (FIFA Ultimate Team) coins in your wallet to keep pace with the competitions. As you play matches, practice in any modes, work on your skills by playing on the hard or easy levels, and keep an eye on your FUT club's performance, you collect coins and soon you'll be able to get better players and items to promote your FUT club strength. This means that no matter what you do, as long as you participate in matches and do not forfeit them, you'll earn coins at the end.
When you browse through the Transfer Marker, all the items are available for purchasing or can be earned as rewards via SBCs, matches, Objectives, Milestones, etc. But depending on their rates, they can be quite expensive and need you to have enough FIFA coins in your account. It helps if you sell one or multiple unnecessary player cards and instead buy a necessary one.
If you don't know what to do in the game, the process of getting high-rated players could be somewhat frustrating. The key is patience and participation in challenges, as well as enough practice. As we mentioned, in order to get FIFA 23 coins, you can either hit different game modes or enjoy the presence of the promos by participating in the SBCs.
There are other optional ways of getting coins such as finding reliable coin suppliers as well. Purchasing FIFA coins is not an unknown or scary way anymore. In fact, there are hundreds of websites that are joining the market and offering services to FIFA players.
Since WhatsGaming is the best website to buy FIFA coins, after almost 5 years of offering cheap coins, exclusive services, and presenting two very reliable and easy-to-use transfer methods, we decided to give you another tour of how to supply your coins using our popular Comfort Trade method. In fact, we've prepared many tutorials on how to purchase FIFA coins using our methods, the safest ways of getting coins, safety tips, and more in the past few years. So this is just a reminder for those who just joined our team and are new to this system. Feel free to check the rest of the blog as well.
Comfort Trade
As you know, careless actions regarding transferring unsafe FIFA coins from one account to another, and trusting scammers will lead to getting punished by EA Sports. This is an unreversible penalty where not only do you lose your account, but your important assets such as coins, points, cards, etc. will be eliminated with it. So if you care for your safety, never trust phishing websites and unknown coin suppliers. We have a whole blog covering this issue (read here).
On the other hand, WhatsGaming cares too much about their clients that they provide only ban-free ways and guarantee them for 48 hours each time they order FIFA coins. Let's see how to use comfort trade on WhatsGaming.
1) First things first, visit WhatsGaming.net. That's WhatsGaming's store page.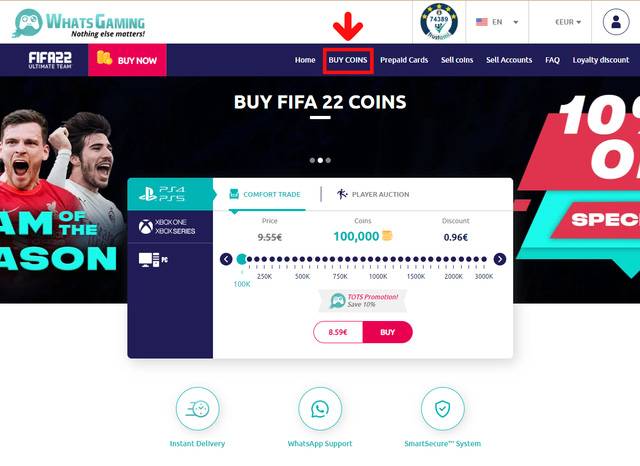 2) You'll see a few options such as FIFA 22, PS5, PS4, PC, and XBOX if you hover over the BUY COINS menu. You can choose your console model right here, or select FIFA 22 to enter this page instead:
You will have 3 options here. Choose your platform: PS/XBOX/PC and wait for it to move on to the next step.
3) It's safe to say that prices on all the platforms are the same. So in the next step, you'll be asked to select your favorite transfer method. You'll have two options: Comfort Trade and Player Auction. Since this is a tutorial on using the comfort trade method, you need to select this one.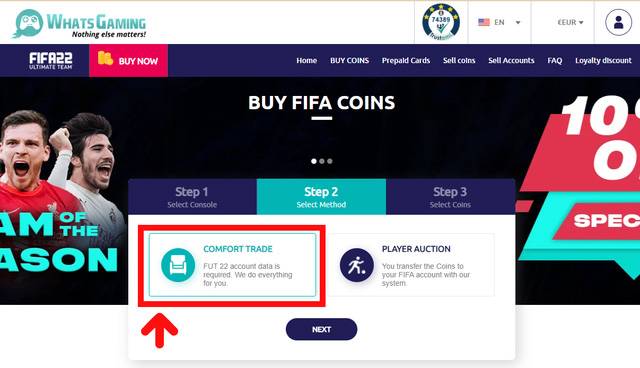 4) Select the number of coins you want to buy and click on "Buy".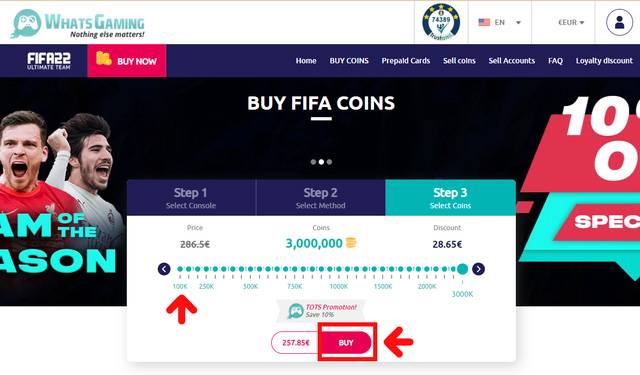 * Note that WhatsGaming has automatically applied the season's discount on the prices.
5) In order to finish your payment, you need to sign up as a new member or log back into your account. This is also a great way to keep track of your orders' history.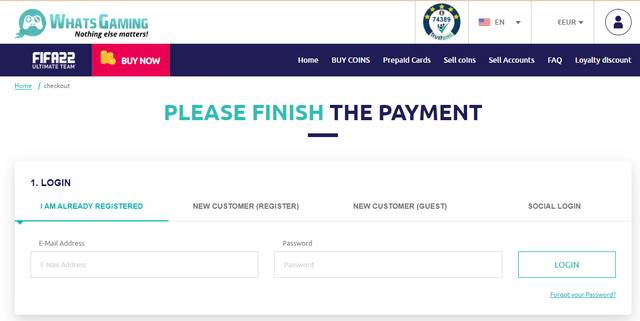 6) We have provided a variety of payment methods just to make sure you're comfortable with the choice you make. You can check to see which suits you the best, select, and proceed to the payment page.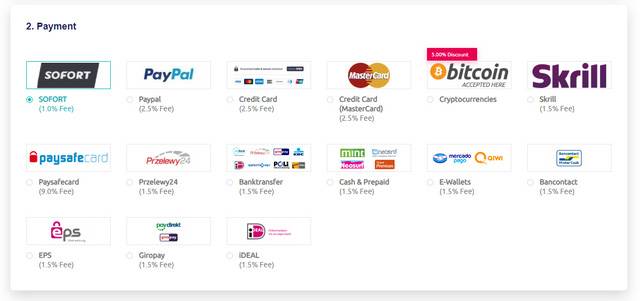 7) If you have an available discount code, you can enter it at the next step before you click on the checkout.

8) Right after you successfully finished the payment process, the coins will be credited to your WhatsGaming account. You can check your balance at the top of the main menu. To start your order, select comfort trade from the users' drop-down menu.

9) Right after you selected comfort trade, the related form will appear and it needs you to provide your EA Sports details.
EA Origin Email
EA Password
Backup Codes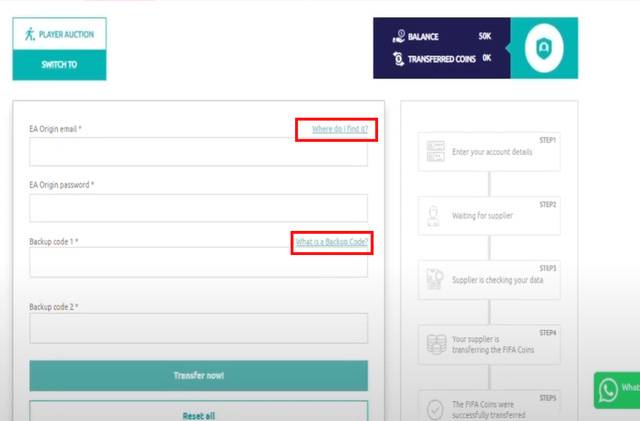 * If you forgot your backup code and are not sure which email you used when registered, click on the highlighted links and we'll help you find them.
* In order to get your backup codes: log into your EA Origin account and click on the Security. You'll see a "View" button in front of your backup codes.
10) Have your backup codes along with other required information entered on the forms and click on Transfer now!
You need to wait for the supply system to check your data and if they're correct, your order will be processed next.
11) Don't log in to your FIFA account just yet and stay offline until after the transaction.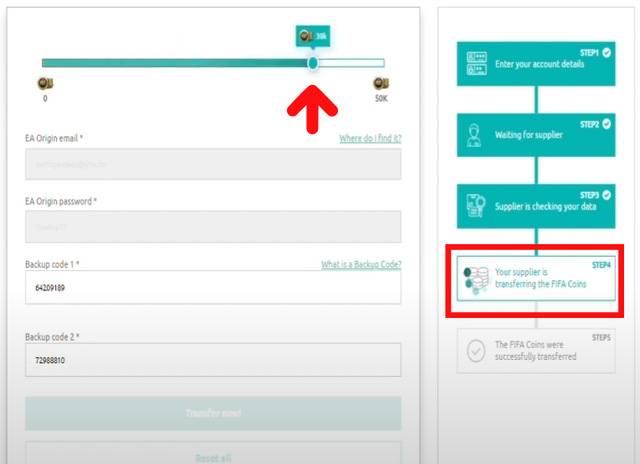 * You need to stay here and do not close the tab until you see STEP 5 is completed. Your FIFA coins will be transferred to your account quickly.
And that is it. You can see how easily you're able to access hundreds of FIFA coins very cheaply and as fast as possible. WhatsGaming always tries to provide more exclusive features for their customers. Don't forget to rate us after your coin transaction and you're always welcome to contact our 24/7 customer service with any FIFA-coin-related question you have.