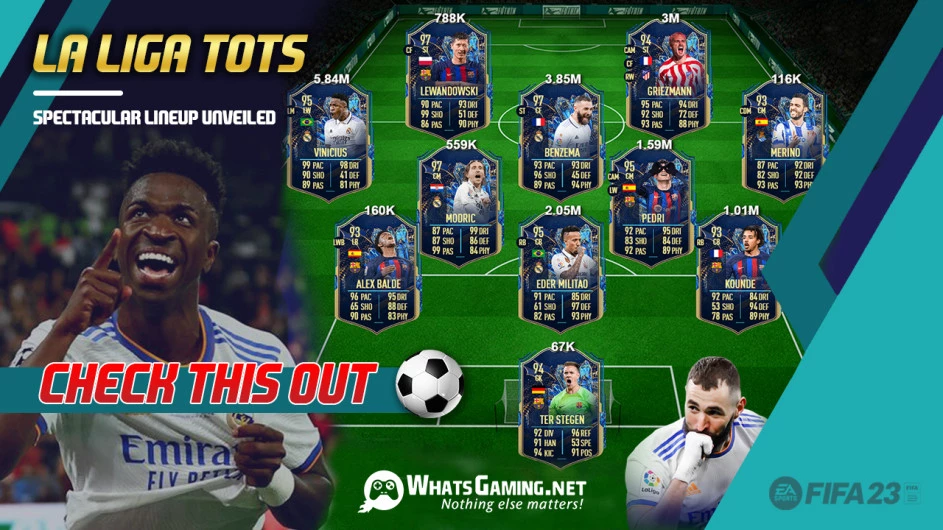 La Liga Team of the Season for FIFA 23
FIFA 23's latest update brings forth the highly anticipated La Liga Team of the Season, showcasing the best players from Spain's top-flight league. On May 19, 2023, football fans and gaming enthusiasts were treated to an exciting lineup of talent that promises to elevate virtual matches to new heights. In this article, we will explore the recently launched La Liga Team of the Season for FIFA 23 and dive into the exceptional players who have secured their spot in this star-studded lineup.
Goalkeeper
Ter Stegen: Ter Stegen's exceptional shot-stopping abilities and commanding presence in goal make him a formidable force to reckon with. His inclusion in the La Liga Team of the Season solidifies his status as one of the best goalkeepers in the world.
Defenders
Balde: Balde's versatility, defensive prowess, and attacking contributions have earned him a well-deserved place in the team. Expect him to dominate the right flank, both in defense and with his marauding runs.
Militao: Militao's commanding presence at the heart of Madrid's defense has made him a standout performer. With his physicality and defensive skills, he is a force to be reckoned with in FIFA 23.
Kounde: Kounde is the best Right Back in La Liga. Period!
Midfielders
Pedri: Pedri's technical brilliance, vision, and composure on the ball have earned him a place in the La Liga Team of the Season. His ability to dictate play and create scoring opportunities will be invaluable in virtual matches.
Modric: Modric's versatility and goal-scoring prowess have made him a crucial asset for Real Madrid. Expect him to make surging runs, contribute defensively, and find the back of the net in FIFA 23.
Vinicius Junior: Vinicius Junior, the young Brazilian sensation, has mesmerized fans with his electrifying pace, dribbling skills, and close ball control. His ability to weave through defenders and unleash powerful shots makes him a thrilling player to watch. Vinicius's agility and quickness allow him to create goal-scoring opportunities, making him a valuable asset for Real Madrid.
Mikel Merino: Mikel Merino, the Spanish midfielder, has caught the attention of football enthusiasts with his exceptional passing range, composure on the ball, and defensive tenacity. Merino's ability to dictate the tempo of the game, intercept passes, and initiate attacks makes him a vital cog in Real Sociedad's midfield. His vision and ability to distribute the ball accurately contribute to his team's attacking play.
Attackers
Antoine Griezmann: Antoine Griezmann, the French maestro, possesses a unique blend of technical finesse, intelligence, and versatility. His excellent ball control, vision, and creativity enable him to unlock defenses and provide assists for his teammates. Griezmann's ability to find spaces and score crucial goals has made him an integral part of Atletico Madrid's success.
Karim Benzema: Benzema's consistency, intelligent movement, and lethal finishing have made him a key figure in Real Madrid's attacking force. In FIFA 23, he will be a reliable source of goals and a constant threat to opposing defenses.
Robert Lewandowski: Robert Lewandowski, the prolific Polish striker, has consistently proven himself as one of the best forwards in the world. His clinical finishing, heading ability, and intelligent positioning have resulted in numerous goals throughout his career. Lewandowski's strength, technique, and exceptional goal-scoring record make him a nightmare for opposing defenses.