New FIFA 23 Exclusive Features & Gameplay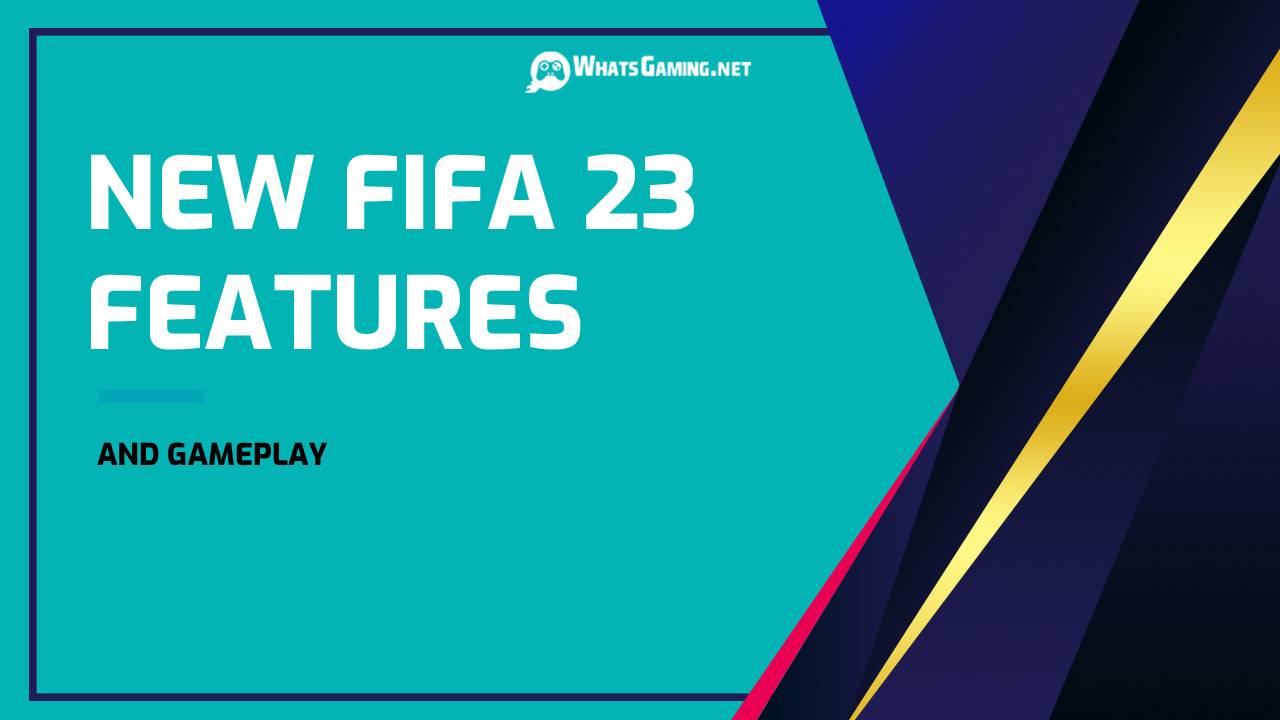 © WhatsGaming
FIFA 23 is fast approaching and the fewer days remain, the more details we get noticed about. EA SPORTS™ released an official trailer for FIFA 23 a few days ago, and we're here to cover every detail of FIFA 23 gameplay based on the video and EA's pitch notes. It is important to know what you're up against so you can get ready from now! You may think it's unimportant to know the details we're about to share but trust us, you're going to need them when you decided to come up with a proper plan and make more FIFA 23 coins later. WhatsGaming is going to break down the trailer and the gameplay; so stay with us to learn more.
FIFA 23 Gameplay Details
If you've been playing the FIFA series for a while just like us, you must've been waiting for more changes regarding the gameplay and some important modes like Career and Ultimate Team as well. FIFA never disappointed us! We've had some major changes over the course of 5 years and to be honest, had our most fun with FIFA 22! The game loads with promos and various content to keep the users satisfied and give them more reasons to keep trying for their dream teams. Now that it's time to move on, we're just hoping that FIFA 23 be just as productive and more flexible in the gameplay. Apparently, EA SPORTS™ finally took the fan's advice and included more fan-friendly details into the game. So, without any further ado, let's take look at the important categories for FIFA 23 gameplay:
Hypermotion2 Technology
Cross-play
More Gameplay Features
Hypermotion2 Technology
The current-gen version has what's called "HyperMotion2" gameplay tech. This tech which is now supported on PlayStation 5, Xbox Series X|S, PC, and Stadia, has the power of bringing real-life motion into the game. We already experienced such a thing on FIFA 22 but it was only available via PS5 and Xbox Series X|S. EA Sports has managed to use the stadium cameras instead of suits, which is better because they're bringing in more animations into the game. The movements have improved a lot and now they're more fluid and better. This technology is composed of two major anchors: Advanced 11v11 Match Capture & Machine Learning.
Advanced Match Capture
We've been given a technology that brings us twice as much realistic motion capture compared to the first generation of HyperMotion. EA SPORTS™ used unique motion capture suits (Xsens suits), in order to seize millions of frames of animation from 2 full football matches with professional teams (the complete motion capture of a women's match included). This motion capture brings high-quality elements and life-like gameplay into the virtual pitch that has never happened in the FIFA series before. You can obviously control the ball and then volley it very quickly now.
Additionally, the introduced technology supports various areas of FIFA 23 such as:
Women Matches: Dedicated full-intensity Women's football merges with machine learning technology! A high-quality and authentic animation to power women's game in FIFA 23.
Full Team Authentic Motion: Both men and women playing on the pitch will be more responsible and life-like than before.
Accelerate: One of the current-gen exclusive gameplay features is AcceleRATE which divides players into individual archetypes to improve the viability of different player types. Based on the combination of players' Height, Agility, and Strength Attributes, AcceleRATE will be set automatically to each of them. Acceleration types are Controlled, Explosive, and Lengthy.
Composed Ball Striking: This feature enables players to transition better in certain shooting situations that require the ball to be controlled first. In general, the goal of this feature is to make first-time Power Shots and other first-time shots more memorable.
Machine Learning
The Advanced 11v11 Match Capture from HyperMotion2 permitted the Machine Learning (ML) algorithm to discover more frames of data in order to create new features. Using the ML will enhance the performance and accuracy of networks and generate various interaction animations in real time which leads to a stronger structure for the future EA SPORTS™ FC and of course, FIFA 23. Several features are powered by ML in FIFA 23, including Machine Learning (ML) Jockey and Technical Dribbling, which you can read more about below.
Technical Dribbling: Improved feeling of movement, new default dribble style using the Left Stick, easy performance for any player.

Note that Technical Dribbling only works when using the Left Stick. Dribbling modifiers or other dribbling systems are different systems that don't use this system.

Machine Learning Jockey: The technology is smart enough to learn from real football defensive situations and movements, and use the captured data to rewrite the jocky feature in FIFA 23 and the future EA SPORTS™ FC.
Kinetic Goalkeeper vs Header Battles: Features more interactions between the goalkeeper and a heading player.
Cross-play
The cross-play feature was first introduced and tested in FIFA 22. It was added only to Online Friendlies and Online Seasons but was expected to be available for more game modes such as Ultimate Team, and also more supported platforms. Now if you play FIFA 23 either on PlayStation 5, Xbox Series X|S, Stadia, and PC, you'll be able to use the cross-play feature only with the mentioned platforms. Meaning PS4 and Xbox one cannot play with those using the above consoles. Therefore, if you're a PlayStation 4 or Xbox One user, cross-play will only work for these two consoles.
Cross-play is now available to play in FUT Division Rivals (except Co-Op), FUT Champions, FUT Ultimate Online Draft, FUT Online Friendlies (except Co-Op), FUT Play a Friend, Online Friendlies, Online Seasons (except Co-Op Seasons), and the Virtual Bundesliga (competitive game mode). Because of the technical difficulties of running cross-play on modes such as Pro Clubs that pair players together, it won't be featured on them for now.
When you first start the game, you should enable the cross-play feature in order to use it. You can naturally turn it off anytime you want. When it's enabled, you can share your Transfer Market with other users. Therefore, it will be developed to contain cross-platform functionality. With the exception of PC and Nintendo Switch which are going to continue having their own individual markets, all the platforms will be able to use the shared Transfer Market. Meaning that if you list an item on PS5's Transfer Market, an Xbox One player will be able to see what you've listed and buy them. The supported platforms are PS4, PS5, Xbox One, Xbox Series X|S, and Stadia. You can also see the international leaderboard, the Elite Top 200 players. Except that you can only toggle between the global leaderboard on the same platform you are (locally).
FIFA 23 EA Social
Another feature for cross-play is the EA Social. This widget is here to let all players who have their cross-play feature enabled, search, add, and send/receive invites across platforms. It is a new feature and it'll be developed over time. In the bottom right corner of the FIFA 23 main menu and on additional screens throughout the game, you can enable and disable EA Social.
It also carries a Friends Tab that displays the user's friends whether they have been added on a local platform or via the EA Network. All users have their own platform indicator icons that show their used platforms, and also a cross-play incompatibility icon if players are not agreeing to play together because of their current cross-play settings. If you need to see additional information regarding your friends, you can highlight the player and observe the details on the right side of the UI. This is the list of interactions that can be done with a friend in the EA Social tab:
Online Status (only EA titles if cross-platform friend only)
Lobby Status (within FIFA)
Invite compatibility (if they are incompatible players)
Access additional Player Actions

Mute
Remove Friend
Block
Report
More FIFA 23 Gameplay Features
In order to bring more variety from the real sport to FIFA, more aspects of the game have been improved and upgraded. We're going to check them out as we continue.
Power Shots: An extra power and accuracy to a shot that needs more time and precision.

How to perform a power shot? Press L1+R1+O (PS) or LB+RB+B (Xbox)
How to have a higher chance of making a perfect power shot?

Each Power Shot requires a considerable wind-up, therefore, have plenty of space around the ball carrier.
Focus more on your aiming as relying on having a clear aim is the key to having a successful power shot.

Redesigned Set Pieces: The improved and new system provides players with more accurate control over how the ball travels to its target.

Free Kicks and Corner Kicks are sharing their function to help the players in choosing where they strike the ball. The Left Stick allows you to pan the camera and change the kick direction. The Right Stick gives you control over the reticle behind the ball that allows you to determine curl, elevation, and the style of your kick.

Penalty Kicks: Refreshed Penalty Kicks are available in FIFA 23. With the use of the Left Stick, you can aim your shot. Your aim will be set within the net, about 3 feet from the posts. Note that holding the position you want since the aim won't recenter. Focus more on timing and powering your kick.
On-pitch physics: A number of new realistic on-pitch interactions are enabled for FIFA 23. More on-pitch improvements have been applied for:

Advanced Impact Physics
Net Interaction Physics
Player Awareness

Football Variety: New animations in Shooting, Defending, Passing, and more tactics are created to get the players to experience more authentic gameplay in FIFA 23.
We hope these details help you understand FIFA 23 features a bit better. There are some exclusive offers such as pre-ordering the Ultimate Edition of FIFA 23 by August 21 to get a FIFA World Cup™ FUT Hero Player Item starting November 11, which sounds intimidating to us! If you're playing FIFA 22 at the moment, we offer you cheap FIFA coins to purchase your desired player on the market. WhatsGaming supports all players no matter where they are through 24/7 customer service. Contact us if you couldn't find the details you're looking for regarding FIFA coins. If you're curious about the world's leading football simulation game, updates, and tips, read the rest of the blog.