Despite some concerns about the global pandemic that is going on, the new FIFA (FIFA 21) is around the corner and will be available to be bought by the end users on October 6th 2020. We have answered lots of questions about FIFA 21, regarding its gameplay, new features, comparison with FIFA 20 or PES 2021 and so on.
Just like previous versions, FIFA 21 Coins will be required to buy players from Transfer Market, and you can as always buy FIFA Coins from WhatsGaming, which has been a dedicated coin supplier in the past couple of years with so many happy gamers.
Now that the gamers are in dire need of FUT 21 Coins, it could occur to you if it's ever possible to transfer FIFA Points or FIFA Coins from FIFA 20 to FIFA 21.
Are FIFA Points / FIFA Coins Transferable Through FIFA Versions?
Here's your answer: You can't transfer FIFA Coins from FIFA 20 to FIFA 21. However, you can transfer FIFA Points from FIFA 20 to FIFA 21, but in order to do that, you should log in to your console. It can only be done through your gaming console, not through web app or companion app. And it's not possible to transfer to another console. So, if you have a PS4, then you can't transfer to an Xbox.
Moreover, you can't transfer FUT Points to previous version(s). If you have points on FIFA 21, you can't send to FIFA 20.
Can I buy FIFA 21 Coins?
Of course you can buy FIFA 21 Coins from WhatsGaming like previous years, but you have to wait until FIFA 21 is officially launched. We will offer cheap FIFA 21 Coins to help eager gamers unlock more features and add great players to their squad.
There are two transfer methods for buying FUT 21 Coins:
Player Auction
Comfort Trade
Each of these transfer methods have their own pros and cons. So, you should read about them carefully before paying for FUT Coins. We have explained player auction and comfort trade in details in our services and blog posts.
Literally, you will be able to buy FIFA 21 Coins by paying a reliable FUT Coin seller like WhatsGaming and sell players to the site via Transfer Market and collect FIFA 21 Coins in return. The amount of FUT 21 Coins you'll receive will be the same amount you paid for. That's how Player Auction works, but there are risks in transferring FUT Coins if the 3rd party site doesn't know how to do it. Luckily, WhatsGaming with a couple of years of experience knows the limits and red lines of EA. The platform is fully automated and the methods are applied carefully within EA's guidelines, so you will receive your coins instantly and safely.
It's time to get your own copy of the game and begin the combat in the latest release of the most exciting Football simulation game, FIFA 21. After waiting a long time, FIFA 21 is available to be bought and played by eager gamers.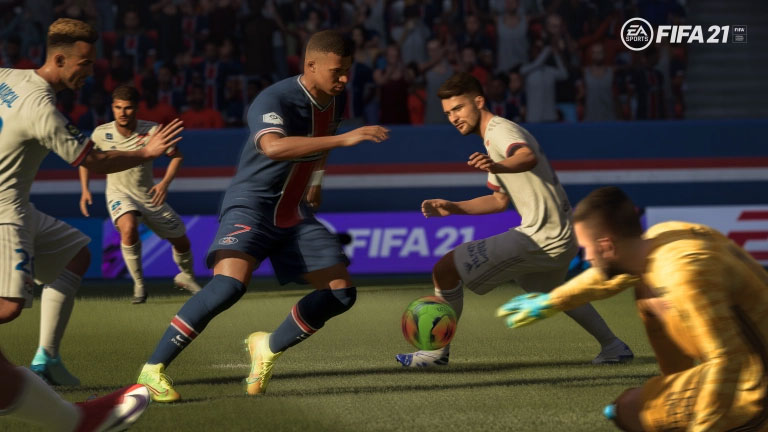 Different types of FIFA 21
There three versions of FIFA: Standard Edition, Champions Edition and Ultimate Edition. Here are the prices:
| Console | Standard | Champions | Ultimate |
| --- | --- | --- | --- |
| PS4 & PS5 | £59.99 / $59.99 | £79.99 / $79.99 | £89.99 / $99.99 |
| Xbox One & Xbox Series-X | £59.99 / $59.99 | £79.99 / $79.99 | £89.99 / $99.99 |
| PC | £54.99 / $59.99 | £69.99 / $79.99 | £79.99 / $99.99 |
| Nintendo Switch | £44.99 / $49.99 | - | - |
Please note that the prices are minimum and maximum on the market. Bellow you can find the cheapest prices offered in online stores:
FIFA 21 Cheapest Prices
Here are the cheapest prices of FIFA 21 you can find online:
AMAZON:
FIFA 21 on PS4 - £49
FIFA 21 on Xbox One - £49.99
SHOPTO:
FIFA 21 on PS4 - £49.85
FIFA 21 on Xbox One - £49.85
ARGOS:
FIFA 21 on PS4 - £54.99
FIFA 21 on Xbox One - £54.99
GAME:
FIFA 21 on PS4 - £54.99
FIFA 21 on Xbox One - £54.99
PLAYSTATION STORE:
FIFA 21 on PS4 - £59.99 from PlayStation Store
XBOX STORE:
FIFA 21 on Xbox One - £59.99 from Xbox Game Store
It's good to mention the addons that are offered along with the game's main copy. You can opt for EA Play 12,000 FIFA 21 Points or 1050, 500 or 100 FIFA Points beside your own FIFA 21 copy. With that option, you will start off with some FIFA points and buy FUT 21 Packs and try your luck for great players for your squad. Otherwise, you will have to play the SBCs or just buy FIFA Coins from great and reliable websites like WhatsGaming.