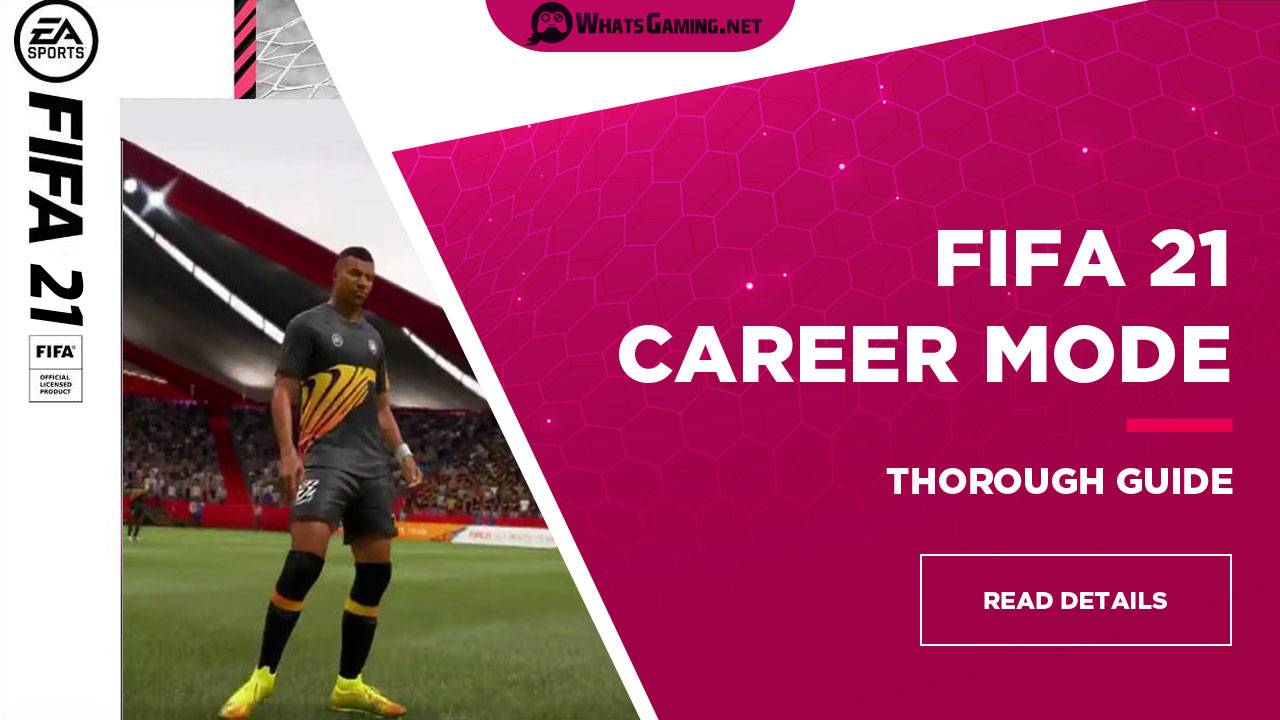 One of the things that makes a difference in playing FIFA, is to make sure your players are in good conditions before using them in your online matches. You may find this more important in FIFA 21 compared to previous versions of FIFA. Development Plans which is new in FIFA along with Training Drills are your two important tools in Career Mode to work with your players in order to improve them.
FIFA 21 Career Mode Development Plans
Development plans are simply some blueprints for developing your players that determine the path of improvement of those player skills. It means you'd have full control over the development process in FIFA 21 and it helps you to fully stir the process in the direction that you need to prepare the players for the position they're supposed to play in. That includes lots of skills that your defenders or forwards can have. Focus on striking more precisely or tackling for your defenders. With development plans you have freedom to focus on any of the possible skills.
In order to set the plan for each player, you need to go to the Squad Hub or Youth Academy and then choose the player you want to work on. Press the show actions button on your controller. You will find the Development Plan in the actions. Then you'd see a list of growth plans to chose for your player. By navigating through the plans, you can see a preview of the changes that will be applied to the players skills. So, you can pick the right plan for the player by looking at the numbers. The bigger the changes are, the goal will be reached in a longer course. You can also see the ETA which is the time required until your player has reached the rating you've chosen by the development plan.
FIFA 21 has introduced a new quality: sharpness. It indicates the likeliness of a player performing his best in high-sensitive moments in a game.The higher the sharpness, the more likely that the player makes a great score or tackle, etc. where usual players fail to make that shot. It would generate lots of FIFA 21 Coins for you if you learn to use sharpness effectively.
Now, one of the things that improve when you train your players, is sharpness. But the problem is that it contradicts fitness. So, in order to have enough energy until the end of the match, you should balance sharpness and fitness, otherwise the player will need to be substituted in the second half of the match.
Scouting in FIFA 21 Career Mode
In FIFA 21, you start with zero FUT Coins in your account and a new bunch of youth in your football academy in the beginning of your career. Then you hire a scout and then search for new youth players in Brazil, Argentina, Italy, Spain, Central and Eastern Europe and so on. The objective is to find a potential young Lionel Messi. To simplify the lookout process, you can take a look at wonderkids at Futwiz. Lots of potential great players are listed there to pick along with their stats like their Age, OVR and Grow.
When you have found the player, just sign him and it will be added to your youth team where you can train and improve his skills to get the max OVR.
Selling Players in FIFA 21 Career Mode
One of the great things about Career Mode is when you can sell a player and bring some income for your team. When you get an offer for any of your players, you'd see the offer like the following image: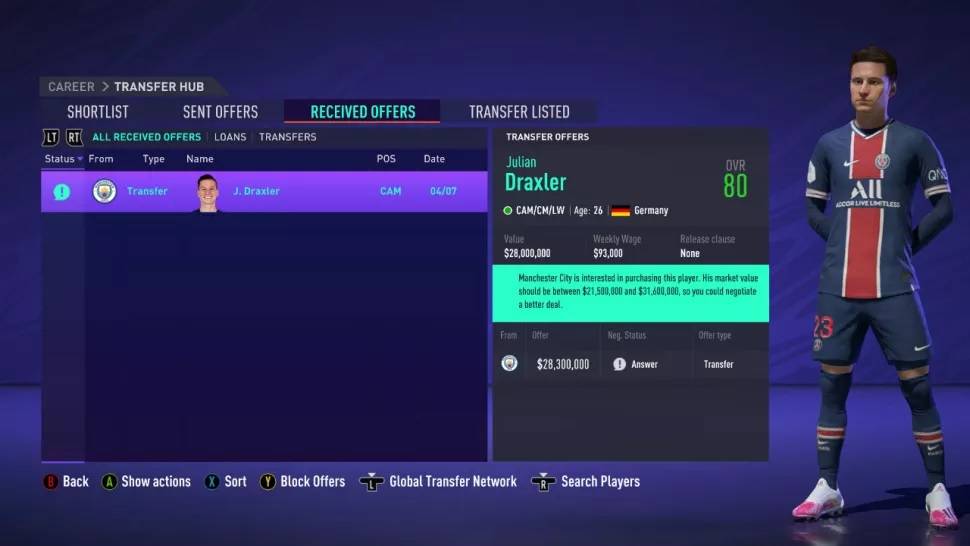 As you can see, the transfer value and the player's weekly wage is stated in the offer. If you think it's a good offer, you can accept the offer to sell the player quickly. In order to do that, you just press A/X to see the player's actions and then Accept Offer. Later on, you could use the FIFA Coins you have to buy another great player for your squad.
But some times you prefer to scout the player and find out the real value of the player. You will need to ask your scout to search for the name of the player. Just visit the Transfers tab and find the player from the long list of players or just search his name. Depending on your scout, sooner or later you'll get a report about the player's stats and value. After that, when you click on the Actions of the player in the Transfer Hub, you'd see your scout's advice on how much the player is worth and how much you should bid on the player.
If you want to do the negotiation yourself, here are a few things you should master: Offer Transfer Fee, Player Swap (if you don't have much funds), Add Sell-on Clause.
The other team's negotiator of course can make offers and modify your offers. You can accept their proposal if they seem good or simply make edits in the offer, like the player's role, contract length, wages, etc.
In FIFA 21, you must define the strictness of the career mode. You can choose for Loose or Strict. It determines how strict your negotiations are. And it cannot be changed once you've started your career.
If you want to keep a good player and you keep getting offers from clubs, you can go to Squad Hub and then Block Offers.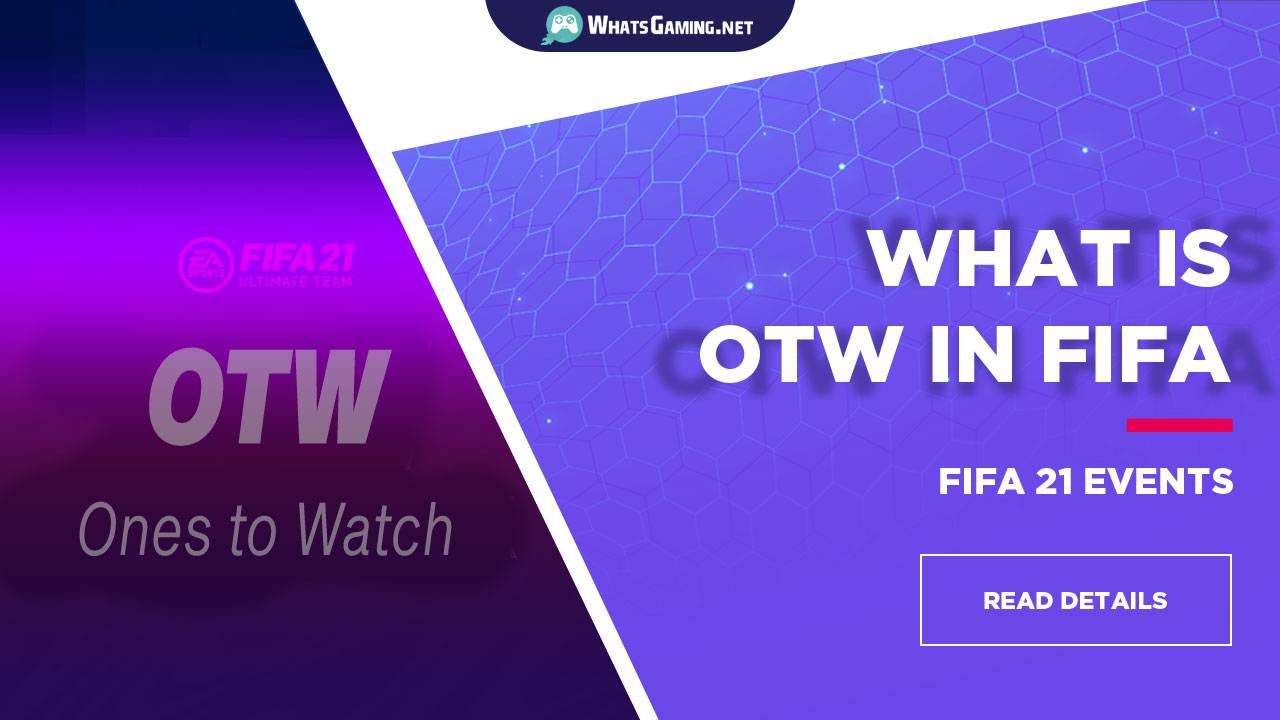 Ones to Watch or OTW are popular upgrade cards among gamers. If you ever look at this page, you'll see a list of players that have been transferred to a new club during summer. So, each summer, a new set of players will get an OTW card that can be bought and invested in.
The OTW cards are upgradable. It means based on the player's performance in real life, the OVR and skills and the OTW card will be increased and as a result, the IF card will worth more FIFA 23 Coins when you sell them on the market.
Once the summer transfers are done, usually OTW takes place in October each year. Then, two teams of players will be introduced as Ones to Watch cards. They have a purple-ish background. Distinctive to the normal cards.
When will OTW cards upgrade?
Usually, when the player performs well in real life, his OTW card will increase in OVR and skills. Most of the times, the player will show up in TOTW once or twice, and each time will add 1-2 scores to his OVR. For example, Luis Suarez was OVR 86 in the beginning. And his OTW card got 87 when he got into TOTW1 and then it became 89 when he was picked for TOTW 13.
Diogo Iota started from OVR 80 and reached 85 because he won the TOTGS title and a TOTW. These cards are great for investing, but you should know what you're doing. Because if the player doesn't improve his play, the card will remain the same and thus no profit. Just a waste of time. If they get into one of those TOTW events or similar, then there will be a boost in price and you can make some FIFA Coins when you sell them.
FIFA 21 OTW Players
Here's the list of players that were chosen for OTW this season (2021):
Team 1:
Hee Chan Hwang
Sandro Tonali
Nathan Ake
Victor Osimhen
Diogo Jota
Ichraf Hakimi
Allan
Blaise Matuidi
Martin Odegaard
Gareth Bale
Thomas Partey
Alex Telles
Thiago Silva
Hakim Ziyech
Timo Werner
Luis Suarez
Team 2:
Jonathan David
Alessandro Florenzi
Ferran Torres
Rodrigo
Arturo Vidal
Donny van de Beek
Nelson Semedo
James Rodriguez
Arthur
Thiago Alcantara
Leroy Sane
Kai Havertz