FIFA celebrates its birthday again. The first week of the FUT Birthday event started last Friday. This year, the FUT Birthday was not concerned with changing positions, which fell to the shapeshifters. Instead, the values ​​of weak feet and skill stars are improved in the FUT Birthday. Van Dijk, for example, has five stars on his weak foot as a FUT Birthday card, whereas his regular gold variant only has three.
This is the FUT Birthday Team
These are the new special cards: The new cards from Mbappe (94), Hazard (94), Griezmann (92) and Rashford (90) are really strong.
Players with Bundesliga teams can also look forward to strong cards from Havertz (90), Hernandez (88), Guerreiro (87) and Bellarabi (88).
FUT Birthday Team I
ST: Kylian Mbappe, 94, PSG (5-star WF)
ST: Eden Hazard, 94, Real Madrid (5-star SM)
CAM: Antoine Griezmann, 92, FC Barcelona (5-star WF)
ST: Marcus Rashford, 90, Manchester United (5-star WF)
CAM: Kai Havertz, 90, Bayer Leverkusen (5-star WF)
CAM: Iker Muniain, 89, Athletic Bilbao (5-star WF)
CM: Moussa Sissoko, 88, Tottenham Hotspur (5-star WF)
RF: Allan Saint-Maximin, 88, Newcastle United (5-star WF)
CB: Lucas Hernandez, 88, FC Bayern (5-star SM)
RB: Joao Cancelo, 87, Manchester City (5-star SM and 4-star WF)
LW: Raphael Guerreiro, 87, Borussia Dortmund (5-star WF)
RF: Hirving Lozano, 87, SSC Napoli (5-star SM and 4-star WF)
CB: Dakonam Djene, 87, Getafe FC (5-star SM)
CB: Joaquin Correa, 86, Lazio Rome (5-star SM)
CAM: Nicolas Gaitan, 85, Lille OSC (5-star WF)
Two more SBC cards were also released on Saturday:
This Friday followed the FUT Birthday Team 2, with various tasks, SBCs and special cards.
FUT Birthday Team II
CB: Virgil van Dijk, 93, Liverpool FC
CM: Paul Pogba, 92, Manchester United
RF: Gareth Bale, 91, Real Madrid
RF: Angel di Maria, 91, PSG
ST: Alexandre Lacazette, 90, Arsenal FC
LW: Douglas Costa, 89, Juventus Turin
LB: Theo Hernandez, 88, AC Milan
LW: Thomas Lemar, 87, Atletico Madrid
RWB: Danny Da Costa, 87, Eintracht Frankfurt
ST: Kevin Lasagna, 86, Udinese
CM: Maximilian Eggestein, 86, Werder Bremen
Another Squad Building Challenge with Steven Bergwijn followed on Thursday. The Dutchman from Tottenham Hotspurs receives a special 88 card with five stars on the weak foot. The cost is around 350,000 FIFA Coins.
The special card gives Bergwijn has five stars for his weak foot and an OVERALL RATING of 88. All basic values ​​are increased compared to his regular gold variant (82), the main focus is on speed (95). But the attributes shot (+11) as well as pass value (+10), physique (+7) and defensive value (+5) were also increased. A Squad Building Challenge (SBC) must be completed in order to add Bergwijn to the team in the FUT Birthday version.
What are the requirements of the Squad Building Challenges?
Tottenham Hotspurs:
At least one player from Tottenham Hotspur
At least one TOTW or TOTW-Moments player
Overall team rating of at least 85
A team chemistry of at least 75
Premier League:
At least one Premier League player
Overall team rating of at least 87
Team chemistry of at least 65
SBC number four is the Frenchman Malang Sarr (central defender), his 87 special card is a 5 star skiller. Cost about 190,000 FIFA Coins.
The following is required for the Sarr special card:
Ligue 1 Conforama:
At least 1 "Ligue 1" player
An overall team rating of at least 85
a team chemistry of at least 75.
France:
France at least 1 player
An overall team rating of at least 85
a team chemistry of at least 75.
You could earn the following cards in the first two weeks:
RW: Karim Bellarabi, 88, Bayer Leverkusen (4-star SM and 5-star WF)
CAM: Lucas Paqueta, 86, AC Milan (4-star SM and 5-star WF)
Last Friday came new tasks that could be earned free of charge by playing Division Rivals / Squad Battles games:
CDM: Tiemoue Bakayoko, 88, AS Monaco (5-star WF)
ST: Jhon Cordoba, 86, 1. FC Köln (5-star SM)
Many FUT Birthday Squad Building Challenges are currently being published. We recommend that you make all SBCs with the initial name "Fut". We would also recommend the 81 + / 84-91 SBCs because the packs are very inexpensive and the "pack rate" is still surprisingly high. In our sample, we opened 30 packs and were able to draw 26x players with an overall rating of over 83+. You can currently get strong players with the SBCs very cheaply without having to buy FIFA Coins.
Which SBC is currently the best?
Our recommendation is Tiemoue Bakayoko, who has 3 star skills and 5 star weak foot. He also has very good pass values ​​(short pass: 96, long passes: 92).
He is also perfect as a defensive midfielder, check defensive values. Another advantage of Bakayoko is that the tasks are not particularly difficult,
Prepare 1 goal with a Frenchmen with at least 80 PHY in 3 separate rivals.
Score 1 goal in 2 separate rival games with a cutted shot with league 1 players with at least 4 star skills.
Prepare 2 goals with French with at least 4 stars weak foot in 5 separate rivals.
Become a goal scorer and preparer in 7 separate rival victories with midfielders with at least 4 stars.
How long will the event last?
In FIFA 20, most events ran for two weeks, so we're guessing that this event will also last two weeks.
Was FUT Birthday for FIFA 19 worth it?
For ten days there was new content every day last year. The cards from Virgil Van Dijk as striker and Mo Salah as leftback (both from Liverpool) and Marcelo (Real Madrid) and David Alaba (FC Bayern Munich), who both received a RW card, were particularly surprising.
What distinguishes the FUT Birthday at FIFA 20?
In addition to the increased overall ratings, the team is characterized by an upgrade to five stars for weak feet or skills. For example, Havertz has five stars on his weak foot as a FUT Birthday card, whereas his regular gold variant only has four.
There will also be FUT Favorites via Squad Building Challenges (SBCs) during the event. Mesut Özil (90) is the first, his special card convinces the weak foot thanks to a permanent upgrade to five stars. Successful completion of games means that more players can be unlocked. Karim Bellarabi (88) from Bayer 04 Leverkusen and Lucas Paqueta (86) from Ac Milan were provided at the start, followed by Tiemoue Bakayoko (88) from AS Monaco and John Cordoba (86) from 1. FC Köln.
We hope that this blog has provided important information on the FUT Birthday event at FIFA 20 and we hope you enjoy it.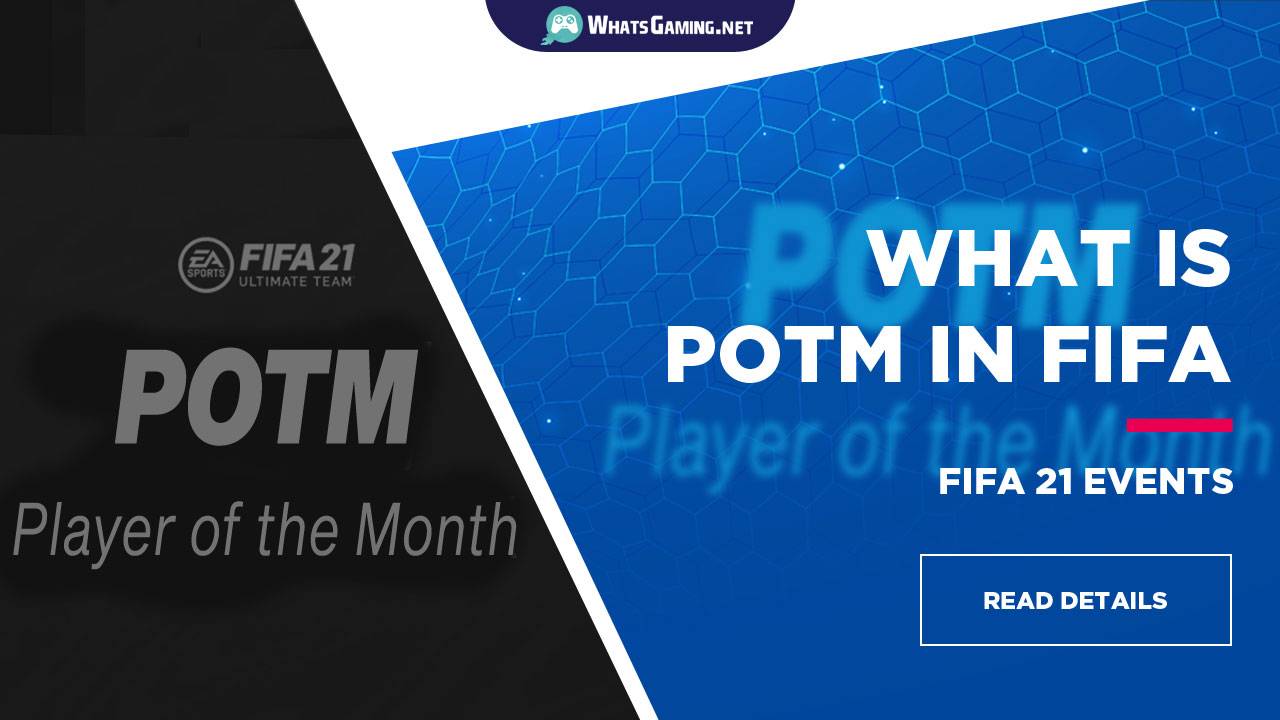 Since 5 years ago, EA has tried to link the real world with the virtual gaming world using different events, such as TOTW, TOTY and POTM.
POTM stands for the Player of the Month. Every month, EA experts pick a player from each of Premier League, Bundesliga, LaLiga, Ligue 1 and MLS, and award the players with an IF card with black background and increased OVR, titled as POTM. The process of choosing POTM is technically unknown. But as we know, the performance of the player in the past month, the reviews, feedback from experts, and even the votes that EA collections from fans for POTM, have a role in choosing the POTM of each month.

Basically, the player's performance in this areas are key measures for choosing POTM:
Goals
Assists
Saves
Losses
Wins
Draws
Great tackles
Sole Scorer
Own Goals!
etc.
How to vote for POTM?
In order to vote for POTM, visit EA's POTM page. Choose the desired leauge (Premier Leauge, Bundesliga, La Liga, etc.). And then pick the nominees for POTM. If you can't find a place to vote, it means you're early... or too late! Usually at the end of each month, the candidates will be announced and you will be able to choose from. Once the votes are collected, EA will announce the month's POTM and the card will be obtainable via SBC.
How to acquire POTM via SBC?
When the POTM is announced, you can find relevant SBC in the Squad Building Challenges. The requirements vary from player to player. Some times it's required that you spend over 100K FIFA Coins. It's sometimes not really worth it, because you could buy a similar player with fewer FUT Coins who is able to perform better for that position.
For example, let's have a look at SON POTM SBC requirements:
Squad 1: Spurs Players: Min 1 | IF Players: Min 1 | Squad Rating: Min 85 | Team Chemistry: Min 75
Squad 2: Premier League Players: Min 1 | Squad Rating: Min 86 | Team Chemistry: Min 70
Squad 3: IF Players: Min 1 | Squad Rating: Min 87 | Team Chemistry: Min 55
Squad 4: Squad Rating: Min 88 | Team Chemistry: Min 55
Estimated FIFA Coins required for the SBC are 600K !! You could buy Rashbord or Mane who are faster attackers with much cheaper price.
Are POTM cards tradeable?
No, unfortunately, the POTM cards are untradeable. Because if they were tradeable, everyone would sell their cards and the prices would drop and the costs of getting the POTM card would be bigger than the sold price, so the whole thing would become meaningless. Why would you spend so much for getting an inform card and then sell it cheaper?
POTM Predictions
Many websites monitor the performance of players in real life football and predict winners of POTM for each league. Their predictions are mainly based on the goals scored, goals assisted, great saves, etc. And some times they turn out to be right, but most of the times, they're wrong. You can use their predictions at your own risk. For example you can check the POTM Contenders from FutBin. You can choose other leagues than PL from the navigation tab in that page and find the contenders of the POTM.
Some people use POTM to make money, s kind of investment, that's why they watch the POTM predictions to buy the cards that could be the player of the month, because they will get a raise in price when that happens.