What is POTM in FIFA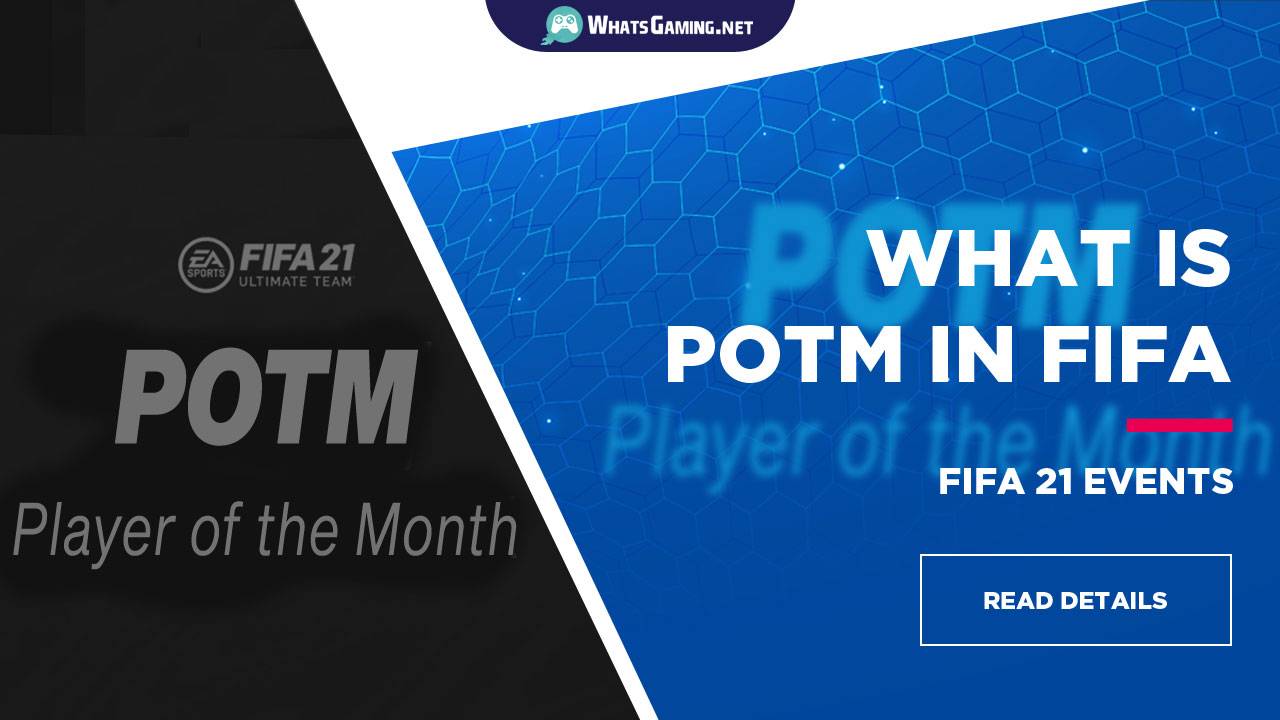 © WhatsGaming
Since 5 years ago, EA has tried to link the real world with the virtual gaming world using different events, such as TOTW, TOTY and POTM.
POTM stands for the Player of the Month. Every month, EA experts pick a player from each of Premier League, Bundesliga, LaLiga, Ligue 1 and MLS, and award the players with an IF card with black background and increased OVR, titled as POTM. The process of choosing POTM is technically unknown. But as we know, the performance of the player in the past month, the reviews, feedback from experts, and even the votes that EA collections from fans for POTM, have a role in choosing the POTM of each month.

Basically, the player's performance in this areas are key measures for choosing POTM:
Goals
Assists
Saves
Losses
Wins
Draws
Great tackles
Sole Scorer
Own Goals!
etc.
How to vote for POTM?
In order to vote for POTM, visit EA's POTM page. Choose the desired leauge (Premier Leauge, Bundesliga, La Liga, etc.). And then pick the nominees for POTM. If you can't find a place to vote, it means you're early... or too late! Usually at the end of each month, the candidates will be announced and you will be able to choose from. Once the votes are collected, EA will announce the month's POTM and the card will be obtainable via SBC.
How to acquire POTM via SBC?
When the POTM is announced, you can find relevant SBC in the Squad Building Challenges. The requirements vary from player to player. Some times it's required that you spend over 100K FIFA Coins. It's sometimes not really worth it, because you could buy a similar player with fewer FUT Coins who is able to perform better for that position.
For example, let's have a look at SON POTM SBC requirements:
Squad 1: Spurs Players: Min 1 | IF Players: Min 1 | Squad Rating: Min 85 | Team Chemistry: Min 75
Squad 2: Premier League Players: Min 1 | Squad Rating: Min 86 | Team Chemistry: Min 70
Squad 3: IF Players: Min 1 | Squad Rating: Min 87 | Team Chemistry: Min 55
Squad 4: Squad Rating: Min 88 | Team Chemistry: Min 55
Estimated FIFA Coins required for the SBC are 600K !! You could buy Rashbord or Mane who are faster attackers with much cheaper price.
Are POTM cards tradeable?
No, unfortunately, the POTM cards are untradeable. Because if they were tradeable, everyone would sell their cards and the prices would drop and the costs of getting the POTM card would be bigger than the sold price, so the whole thing would become meaningless. Why would you spend so much for getting an inform card and then sell it cheaper?
POTM Predictions
Many websites monitor the performance of players in real life football and predict winners of POTM for each league. Their predictions are mainly based on the goals scored, goals assisted, great saves, etc. And some times they turn out to be right, but most of the times, they're wrong. You can use their predictions at your own risk. For example you can check the POTM Contenders from FutBin. You can choose other leagues than PL from the navigation tab in that page and find the contenders of the POTM.
Some people use POTM to make money, s kind of investment, that's why they watch the POTM predictions to buy the cards that could be the player of the month, because they will get a raise in price when that happens.