Avoid Scams in FIFA - WhatsGaming Safety Guide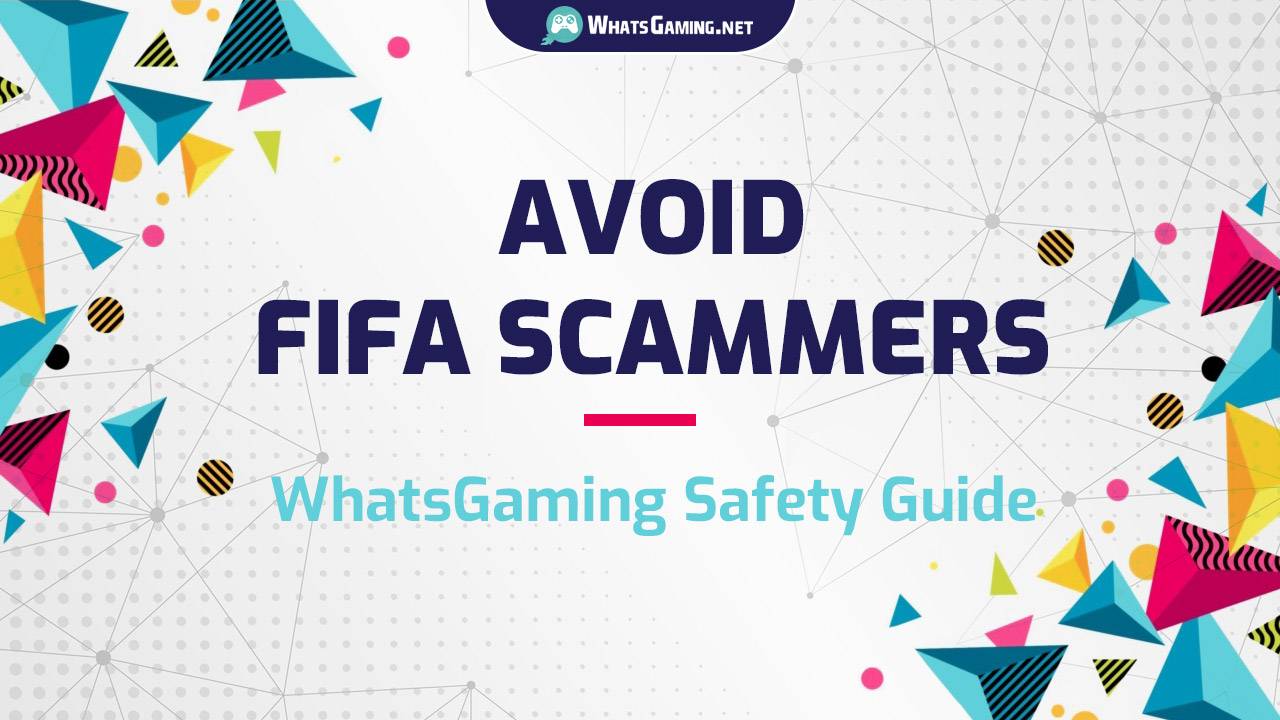 © WhatsGaming
FIFA undoubtedly is one of the most favored games ever made. Each year, tens of millions of gamers buy and play FIFA to have fun with their family and friends. Online gaming with FIFA Ultimate Team is challenging and becomes sort of serious when teenage gamers compete each other and want to win the tournaments.
The more win, the more FIFA Coins added to the account and thus there would be chances of buying expensive players such as Ronaldo, Messi, Neymar, Zidane or Maldini.
Now when a game becomes that serious, there will always be trouble. People would cheat and steal from each other so they could buy icon players faster and win more games. Of course, most of the gamers would stay ethical and play fair while competing other opponents, but some of them would start looking for shortcuts to steal other people's FUT Coins and then buy players for their own squad.
In this article we will discuss types of scams that are out there threatening the gamers and will share measures required to take to avoid being scammed so you will be always on the safe side. WhatsGaming is always looking out for other gamers' improvement and better gaming experience, as we are gamers ourselves and we care!
Types of Scammers in FIFA
There are different scammers and different techniques they use to steal from you.
Scam Technique 1: Free FIFA Coins
One of the ways is that the scammer promises millions of free FIFA Coins that they make with coin generators and can transfer to your account. We discussed the idea of Free FIFA Coins in details and how it is possible to get free FIFA Coins and how some times it could be a scam. But at the end of your chat with them, they will always say that they need your account's login information to transfer the coins. At that point, you'd have a dilemma about trusting them or not. But most of the times, it would result in your coins being stolen from you. Our advise is to never share your account credentials unless you know the seller very well and they have a very positive history of transactions in their profile. WhatsGaming as a well-known FIFA Coin seller has always taken care of its customers information using highly secured protocols and expensive security systems installed on the server. Keep in mind that EA will never ask for your account's information, even though you've got an email that seems to be from EA, it's certainly a scam, as stated here.
Scam Technique 2: Exchanging / Doubling FUT Cards
Another way you could get scammed is by exchanging or doubling FUT cards. This one is a rather smaller type of scam, but it still exists! The scammer in this method will ask you to exchange FUT cards.. and after gaining your trust wants you to place your card in transfer market first. And then you'd sell one of your valuable cards for cheap to them and they will not keep their promise and they will shut down the communication.
Scam Technique 3: Selling FIFA Coins
Unfortunately, there are scammers who pretend to be FIFA Coin sellers. They require you to buy something to participate in a non-relevant monetary transaction. Some others pretend to offer comfort trade transfer method, but they just want to get your login information and backup codes. And you'd never get your promised coins. That's why it's really vital and crucial to deal with trustable FIFA Coins sellers. A genuine website with live support, a positive review profile and many happy customers. You shouldn't trust any random guy in Facebook or Twitter who claim to sell you FIFA coins cheap. That would most of the times result in loss of an account or all of your FIFA 21 Coins or whatever version of FIFA you're playing.
FIFA Account Hacking
One common way to hack a gamer's account is called phishing. This is done by designing a replica website of EA but with a different domain name. The design and styles look exactly like EA but if the user don't pay attention to the address bar, he or she won't realize that it's a phishing site. As a result, the users will click on login like they do on EA's real website and once they provide their email and password, the phishing site will steal the login information, they will log in to the user's real account and change their password. And that's how they will be able to hack and hijack an account and transfer its coins to their own accounts.

What to do if You're Scammed in FIFA
The best thing to do, if you've been unlucky and been scammed, is to make contact with EA via their contact information and discuss what happened to you. There is probably nothing they can do about it, but at least they are informed about scammers and how they do it, so maybe in future they devise some technicalities to avoid such things to happen.
Another thing to do is to declare the scam and point out the scammer's name in groups like Reddit, Facebook, etc. This will prevent other gamers to get scammed by that guy. In Reddit, there are lists of scammers for gamers as a heads-up so they don't get caught in their trap.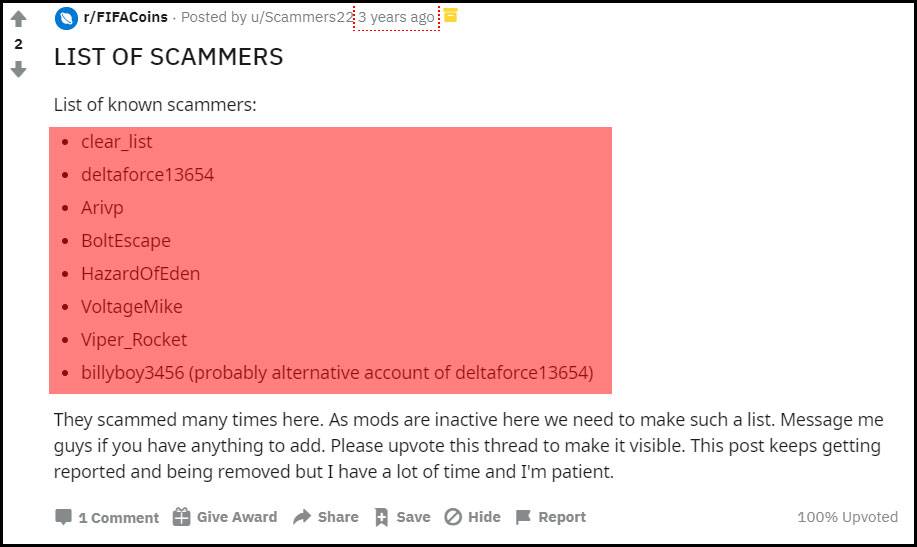 The funny side of this topic is trolling dumb scammers! Some users have been making fun of scammers who are obvious. Discussions in Reddit like this page have lots of readers and are somehow useful for other users and gamers as well, as they expose scammers and their methods.
How to Avoid Scams in FIFA
To avoid phishing of your account, you should "always" check the address bar before you type in your account's login information, to make sure it's a genuine EA website. And to avoid being scammed by coin sellers or card upgrade propositions, you should at all times be cautious. Nobody will do anything for you for free. If an offer seems too good to be true, you should certainly give your decision a second thought. Always perform a background check by searching their names in Google. Use the word "scam" or "fraud" next to the name of the guy and see what comes up in search results. If there were complains about scams or bad services or stealing FIFA Coins, you should never make any interaction with that guy.
Safety Tips of Buying FIFA Coins
Buying FIFA Coins is a very sensitive process in terms of safety. As mentioned before, there are lots of scammers who claim to sell cheap FIFA 21 Coins. To avoid losing money or losing access to your EA Origin account, you should carefully consider the following safety tips:
Do not buy FIFA Coins from random guys who offer cheap FIFA coins in Facebook, Twitter, Reddit, etc.
Perform a background check before promising anything. Search their name on Google.
Buy FIFA 21 Coins from websites who have lots of positive reviews on great review websites such as Trustami and TrustPilot.
Make sure the site uses https in the browser, because online payments should have SSL certificate for security.
Make contact with the live support of the website before buying FIFA coins. Make sure they are operating and are not on holidays. Find out how prompt they are in responding messages.
If their system is automated, watch videos to learn how they work.
WhatsGaming with an innovative and fully automated platform to sell FIFA Coins will always answer your questions regarding purchasing FIFA Coins. Before you even buy FUT Coins, we will ask questions about your account's age and details to make sure your account will not get banned. Most websites don't even care about this. But we do, and we want our customers enjoy the coins they buy from us.

BUY SAFE FIFA COINS NOW!