Bronze Pack Method to Make Coins in FIFA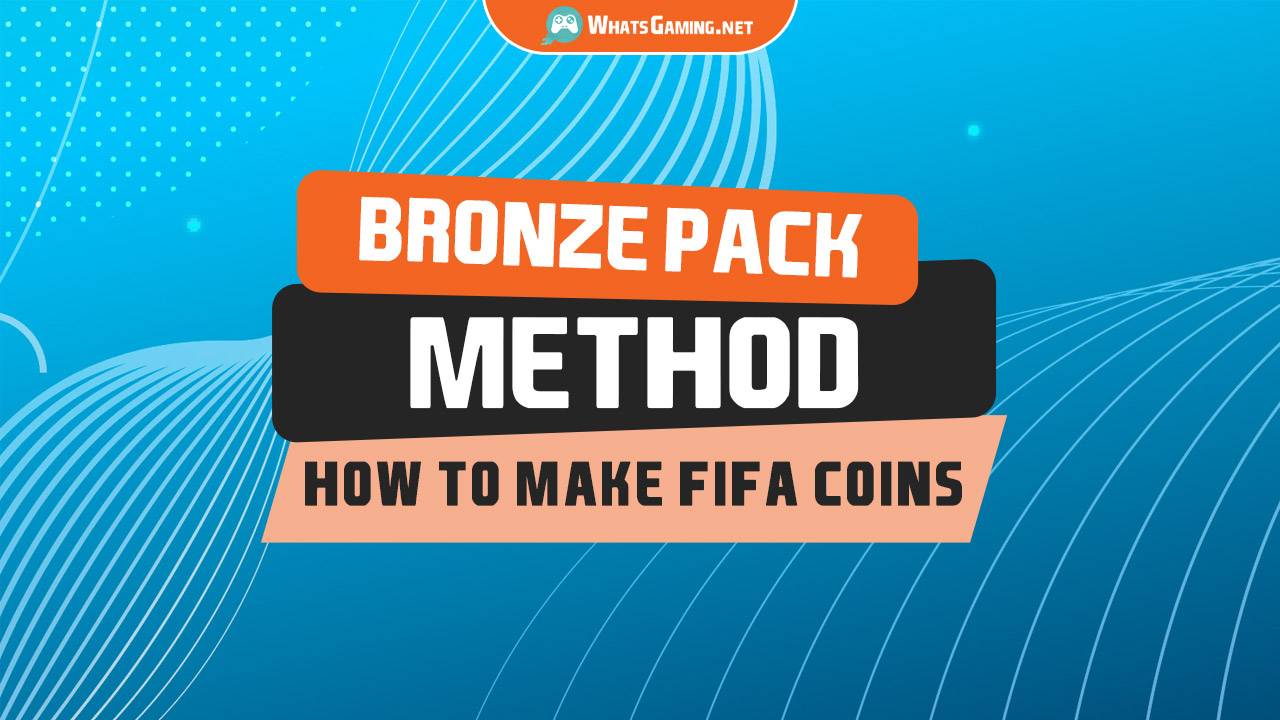 © WhatsGaming
When it comes to making coins in FIFA, a few methods and procedures stand out. So does the Bronze Pack Method or BPM. FIFA Investors prefer this method to the other ways in making FUT Coins.
How does Bronze Pack Method Work in FIFA?
The whole idea of BPM (Bronze Pack Method) is to earn FIFA Coins via buying Bronze FUT Packs, opening the packs on the right time, and selling the players inside them with their BIN price or higher at the right time when the profit you make is likely to be higher. The coins you make this way are not very much. But if you keep doing that over a long course of time, you will make a fortune out of FIFA Ultimate Team.
Best Practices in Bronze Pack Opening Method
While opening FUT packs, there are a couple of options that you may encounter and some of the options will make more coins for you if you pay attention. Below, we will share small details that we have learned through experience so you can make more profit in your investment in FIFA.
Tip: WhatsGaming shares knowledge with other gamers via its Blog such as this article about "Bronze Pack Method in FIFA". If you find this blog useful, give us some credit in your social media such as Twitter, Youtube, Instagram, etc. You can share this article by clicking on the social buttons at the bottom.
Which Type of Bronze Pack to Open?
When you are about to buy a Bronze Pack for BPM and making FIFA 21 Coins, you'll have two options:
Regular FUT Bronze Pack
Premium FUT Bronze Pack
The regular bronze pack costs 400 FUT Coins and the premium bronze pack is bought with 750 FIFA coins. Now, the question is, which one is better for FIFA Investment?
Both types of bronze packs have the same number of players in them. The only difference is that the premium pack gives you three rare cards instead of one. Now, if you get lucky and win a few bronze players that sell really good, that would be great, but in practice, the only players that sell really good (up to twice the pack's price) are fitness cards, so in general it's recommended to go with the normal bronze pack which costs 400 FIFA Coins.
Other types of bronze packs include FIFA consumables such as:
Contract Cards
Fitness Cards
Healing Cards
Training Cards
...
Club items such as stadiums, balls and kits (non-consumables)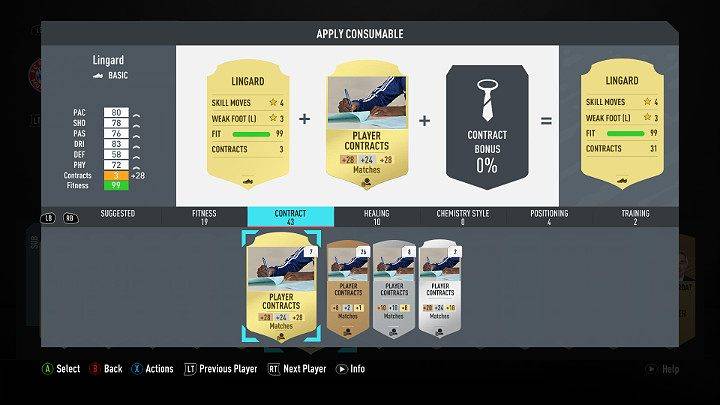 Each of these types of cards can be expected from those bronze packs (regular / premium) and it's good to know what to do with each one of them to get the most out of BPM.
The contract cards will increase the number of matches a player or a manager can play. You may know that each player or manager has a limited number of plays that you can use to play FIFA with. When this number runs out, you will need contract cards to add the number of matches. The contract cards can be applied at any time and their effect will stay on the player until they play and their contract runs out again.
Just keep in mind that loan items cannot be extended by contract cards, and contract cards usually add 8~28 matches depending on the player's card (bronze / silver / gold / rare / non-rare)
Fitness cards are similarly applied to the players for boosting their skills before a match. They last one match only. So, if a player is down his usual numbers before a match, you can apply a fitness card to him so the rating goes up and he performs well. The fitness card will be useless after applying to a player. There is also another type of fitness card that applies to the whole team (23 players including the reserves).
If a player has an injury, fitness cards will not do any good to him. You will need to apply healing cards. Those healing cards reduce the waiting time by 4-5 matches and are two types: the healing card for specific injuries (like foot, arm, etc.) or an overall healing card that heals the injured player no matter what the type of injury is.
What to do with Cards in FIFA Bronze Pack Method
It's crucial to the FUT Pack investors to know when to open the packs and what to do with the cards after they acquire bronze packs.
Here's the deal:
If you get consumables, you apply them to the players.
If the new cards are from the top 5 leagues (Premier League, Bundesliga, Serie A, La Liga, etc.), you should wait until an SBC is active. By waiting till SBC the value of the pack's items will go up and you will make more FIFA Coins. When the SBC is on, sell items or use the players in SBC.
If your cards are from other leagues, if the SBC is on, sell the players on Transfer Market or use them in the Squad Building Challenge. If there is no SBC available, you must check their prices. If it's good, sell them, if not, keep them for now.
What happens if your cards are from top nations?
If the card you opened from the bronze pack is from top nations (Belgium, France, Brazil, England, Uruguay, Croatia, ...), just sell the cards! If it's from Netherlands, you will make a lot of FUT Coins from it!
If the card belongs to other nations, just keep the cards (don't sell them).
How much should I sell the fitness cards?
If the fitness card applies to one player, sell it at 200 FUT Coins. If it's applied to the whole squad, you can sell it 700 to 1200 FIFA Coins (depending on which day of the week it is and if there are active promos on).
How much should I sell bronze pack Training Cards?
The training cards are good for boosting skills of a player. The training card can be applied to only one of the player's attributes or all of them. It doesn't work selectively. And the effect will last one match only. You can't apply more than one training card to one player, ie. it doesn't accumulate.
Now if you have a training card that applies to the player's attributes, you can sell it at 200 coins. Or maybe keep it for your matches. Selling all training cards is tricky as they need a few rounds of bidding sometimes. Other training cards can be quick-sold or kept for the squad.
What to do with Duplicates?
There's a dispute about duplicates. Some people believe it's best to use them in Silver upgrade SBC's. There you will have better chance to sell them or use them in your team. It's recommended to send the duplicate card to TL (Transfer List) and use the one you have in the upgrade SBC. When the card is upgraded, send it back to your club. But the problem is that since it requires lots of efforts, most gamers prefer to sell the duplicates.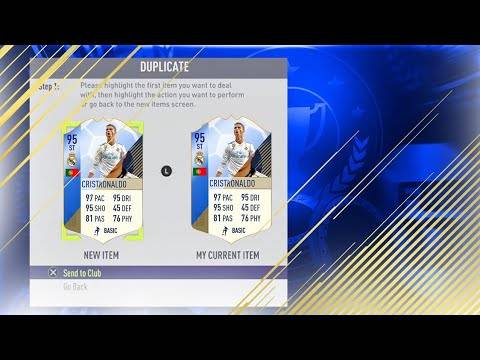 But if the duplicate card is from top 5 leagues it's really profitable to sell them (if there is an active SBC). If there is no active SBC then you can keep them waiting on the transfer list. If the cards are from other leagues you can sell or keep in TL and for other leagues you can do a quicksell.
Alternative to Making FIFA Coins
One might find it very difficult or time consuming to make FIFA Coins through Bronze FUT Packs. It is even harder if you want to do it through playing SBC's. Fortunately, you can easily buy FIFA Coins without getting banned by EA if you do it wisely and with a well experienced website like WhatsGaming. With WG you are in good hands and your account will be safe all the time you buy FUT 21 Coins.
To learn more about buying FIFA Coins, you are encouraged to read our FAQ Page or if you still have questions, you can drop us a message in our 24/7 Whatsapp support.
Good luck and happy hunting FIFA Coins!

BUY CHEAP FIFA 20 COINS NOW!