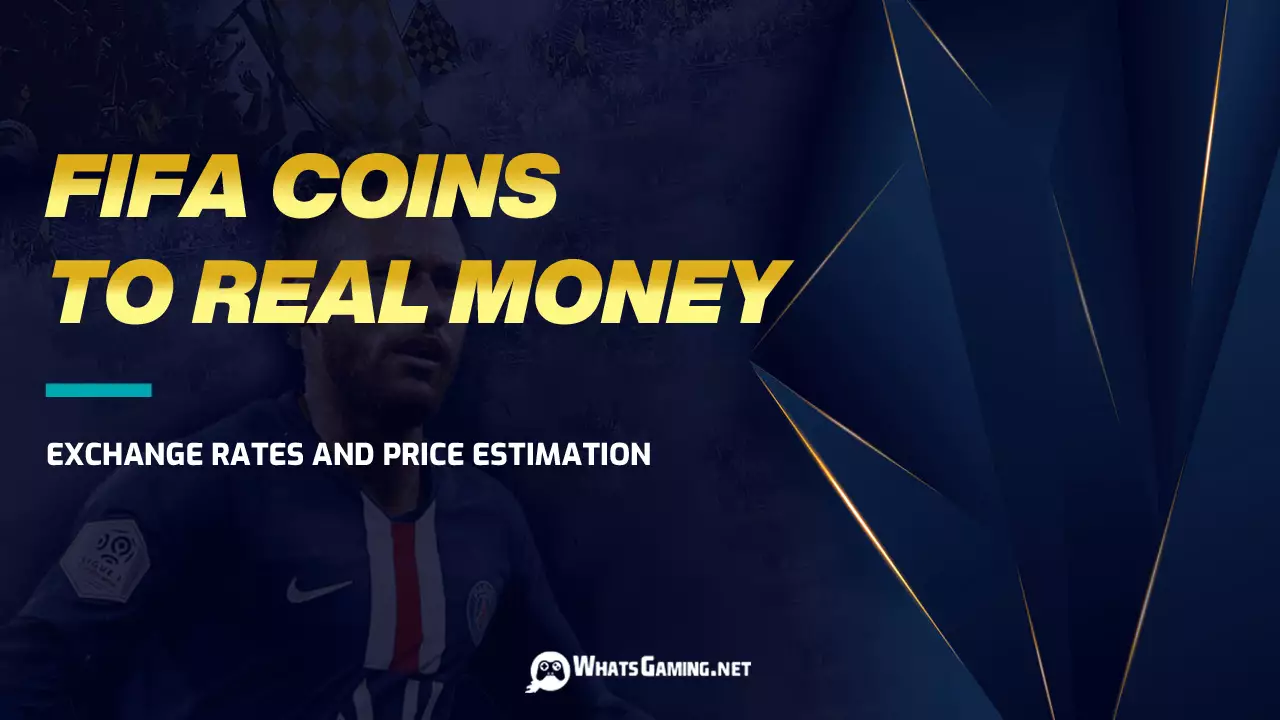 FIFA 23 Coins to Real Money Exchange Rate
What are FUT Coins?
When you play FIFA 23 in Ultimate Team mode, after each game you will be rewarded some FUT Coins. They are simply an in-game credits that the game will automatically give you and you can use them to buy consumable items, such as Fitness, Healing, Training items or even players to stadiums for your team. Each of these items have a specific price in Fut Coins. In order to buy those items, you must go to the Transfer Market and buy from other players. You can also sell FIFA 23 Coins in TM. But you should be careful, because the price they offer might be lower than the worth of your items. It's wise to have a look at FUTBIN, a website that serves as a database for all FIFA items with their updated prices.
How much are my FIFA 23 Coins worth?
Before we answer your question regarding the value of your FIFA 23 Coins, we must warn you about EA's strict rules against any monetary-involved FUT Coin buy or sales. EA does not want gamers to make money or pay real money in order to buy the coins, however if you stay in the safety zone, you will be able to sell or buy coins legally without getting banned. But in order to do that, you should fully understand EA's guidelines to avoid unconventional transactions. Luckily, at WhatsGaming, with several years of experience with FIFA Coins, we can take care of the job for you. It's really important to find a great FIFA coin selling website that complies with EA's latest standards and never puts your account in the ban zone.
Now that we're aware of the risks of FIFA Coin transactions and how to stay safe, let's see how much your FIFA 23 Coins are worth.
Every website has a different pricing plan and also different methods to buy your FIFA Coins. That's why the prices may vary from site to site. Also, it's good to note that the price of FUT Coins are higher the first few months that the game is released, because of high demand and less coins in the market. After a while, the price goes down of the peak and it would be more affordable to buy.
Here's FIFA 23 Coin to real money conversion table:
| FIFA Coins | Price (Euro) |
| --- | --- |
| 10K FIFA 23 Coins | - |
| 50K FIFA 23 Coins | 12 |
| 100K FIFA 23 Coins | 24 |
| 500K FIFA 23 Coins | 120 |
| 1000K FIFA 23 Coins | 240 |
You can use this currency converter to find the exchange rate of FUT 23 Coins in GPB, USD, etc.

BUY CHEAP FIFA COINS NOW!
As we mentioned earlier, the prices may vary from seller to seller and from time to time. Here's an overview of the FIFA Coins price changes through a given season:

How to change FIFA Coins with real money?
If you want to sell your FIFA 23 Coins, there are many ways to change them with real money. Some people make money with FIFA Coins, some people just want to exchange their FUT Coins only once and don't do it frequently. Either way, we can help you achieve that at WhatsGaming.What is MyDGN and how can I sell my FUT Coins with it?
WhatsGaming has a dedicated FUT Coin selling service called MyDGN. It's a service where you can be a coin supplier and the FIFA Coin buyers will receive their coins from you. The amount of money you receive will be a good portion of what they pay for and you will be completely instructed and supported. The method you'll be using is called Player Auction. And you will buy less valued players in Transfer Market from the coin buyers and as a result, they will receive their FUT 23 Coins and you'll receive your real money. You can start selling your coins via the link below (click on image):
As we mentioned earlier, some people use our system to make money. But there are lots of details if you're going to invest in FUT, that fortunately you can find on our blog. Every few days, our blog gets updated with new information regarding FIFA and that's how you can read and learn more about FIFA Ultimate Team.