FIFA 23 New Features and Improvements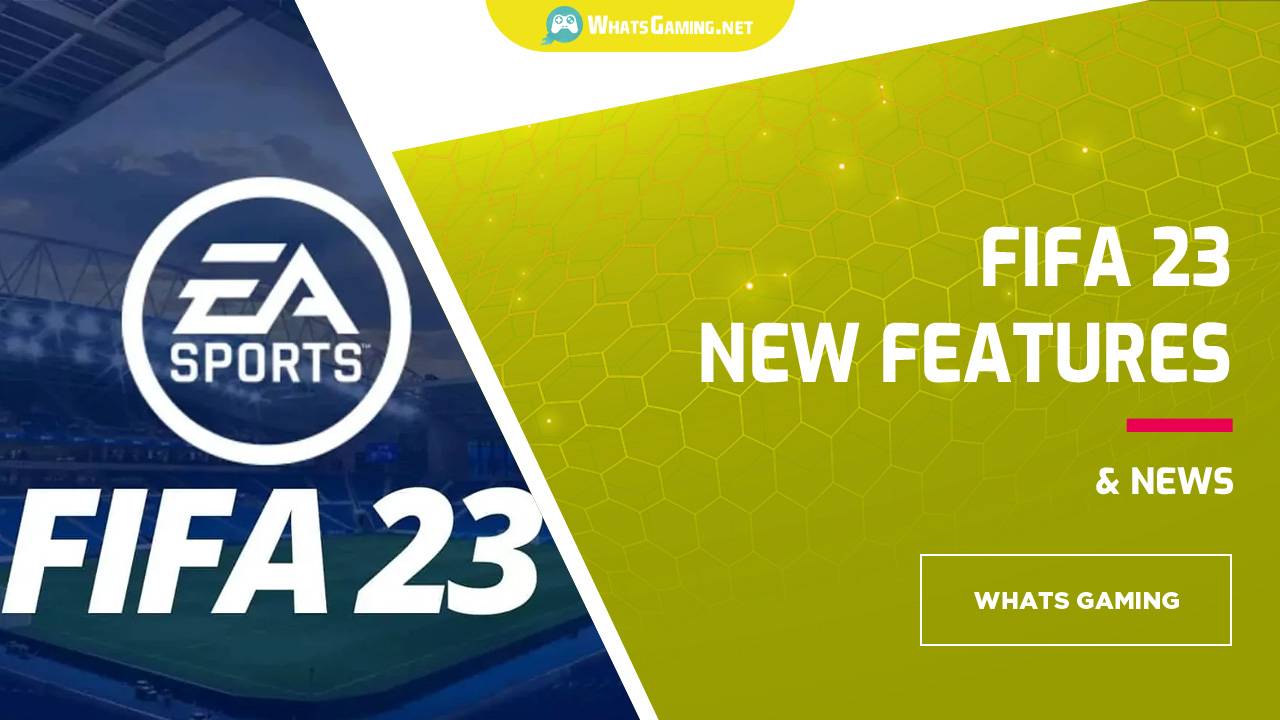 © WhatsGaming
It's an exciting time for all FIFA players because as we know, FIFA 23 is going to release in a few months and we're excited to know more about it. The FIFA franchise has a created wonderful gaming experience for us so far, so we expect nothing less from FIFA 23 to be as awesome as previous versions. After EA Sports informed that after 30 years of relationship with FIFA, it is now time to move on and remove the "FIFA" title from this popular football simulation video game, players wonder if the quality and the gameplay of this newly introduced game will be any different than FIFA. We covered this topic in another blog that you can check out here. We're here to only talk about FIFA 23 and find out more about it.
FIFA 23 Latest News
The gaming community is enjoying the current events in FIFA 22 and still, we're looking forward to more releases. We may be able to guess the release date of FIFA 23 since the past few games have been released between September and October, FIFA 21 was released on October 5, 2020, and FIFA 22 was available on September 26, 2021. If EA Sports decides to follow the same pattern, then we'll get FIFA 23 between the mentioned time periods. The supported platforms are yet to be announced and we don't know which consoles are going to be compatible with the new FIFA, but we believe the same platforms that worked with FIFA 22, such as Xbox Series X/S, PS5 & PS4, PC, Nintendo Switch, and most likely on Xbox One and Google Stadia, are going to function just fine. EA said FIFA 23 will also contain more game modes, features, teams, leagues, players, and competitions than any previous edition. The cross-play feature that has been applied and tested in FIFA 22 is going to be an important feature in FIFA 23 as well.
With the World Cup getting closer, EA Sports has managed to include this important mode in FIFA 23 and naturally, added more nations to the game. FIFA 22 has 33 playable countries in total, with the addition of Ukraine, and as reliable sources confirmed, we'll be seeing 16 new nations introduced into FIFA 23 as the World Cup starts.
Ecuador
Senegal
Cameroon
Ghana
Iran
Tunisia
Qatar
Costa Rica
Japan
Morocco
Croatia
Serbia
Saudi Arabia
Switzerland
Uruguay
South Korea
As we mentioned, these nations are going to be added to FIFA 23 because the game will be featuring a "World Cup" add-on that is guessed to be released around November. For those who don't know anything about the World Cup mode, it's a feature that allows FIFA players to create their own World Cup with all the suitable nations, stadiums, and new kits in an offline setting. There is also a new feature in FIFA 23 Ultimate Team, that enables players to achieve the World Cup glory via creating their 'Ultimate Teams' of all the current qualified World Cup nations and joining online competitions. It's also been leaked that ICONS are making a come back in FIFA 23 World Cup to help players obtain more valuable ICON cards through this event and of course, SBCs.
We hope this blog helps you get the info you need about FIFA 23. Meanwhile, if you're still struggling with FIFA 22 promos and don't know how to do so, you can read the rest of the blog and get the latest info, tips, and tricks! WhatsGaming supports are FIFA players by releasing FIFA coins discount codes and helping them create a delightful game experience in FIFA 22 and future versions!