Can You Buy FIFA 21 Coins?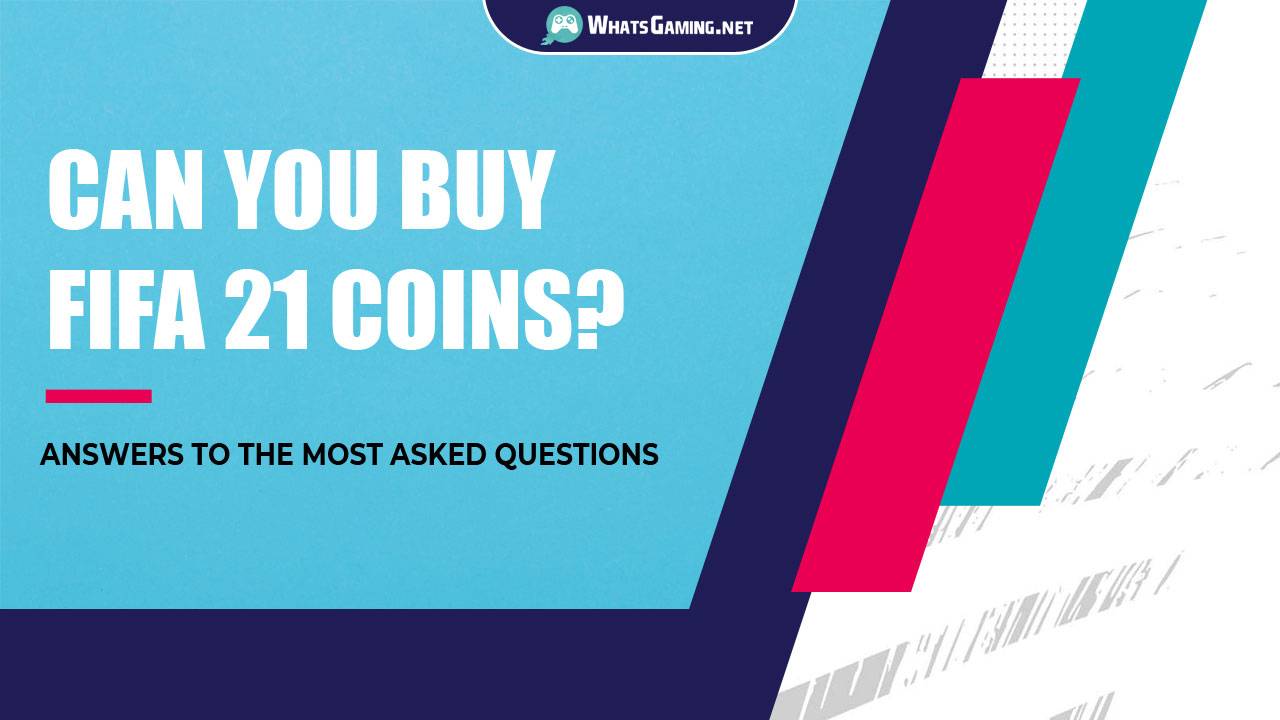 © WhatsGaming
As a new FIFA player lots of questions may occur to you such as "How to earn FIFA 21 Coins?" or "Can I Exchange my FUT Coins with Real Money?" or "Can I buy FIFA 21 Coins?". We will discuss the last question in this article.
What is a FIFA 21 Coin?
As you may already know, FIFA Coins are some virtual in-game credits that you will be rewarded when you play and win games in FUT 21. Coins are the only means with which you can buy better players for your team. Let's say you are dreaming about having Neymar in your team's forward position, just to score more and win more. Now, the current price of Neymar (92) is almost 80k FUT 21 Coins. But you may not have that much FIFA coins in your balance or it would take such a long time to earn 80 thousand FIFA 21 Coins. That's why some gamers go for buying the coins instead of waiting weeks if not months to gather that much coins.
Buying FIFA 21 Coins
Now that we know how important the coins are in FIFA 21 to form a great squad, it's good to know if it's possible to receive the coins quicker than the usual / painful way. It would be great if you could simply buy FIFA 21 Coins instead. Actually, it's possible and completely legal and common practice to buy FUT 21 Coins. WhatsGaming has been providing coins for FIFA gamers for several years now.
It's really important at this step that you find the right FIFA Coin selling website so you don't end up unwantedly with a banned account or lost money or lost coins, etc. After many years of experience in selling coins, we can tell these qualities are important to choose the best FIFA Coin website:
Strong positive background You should take this feature seriously. There are tons of websites out there and many of them have review records in Trustami or Trustpilot. But not many of them have a positive record. Because their customers some times wait for a long time, or the payment don't get through, or their support don't provide a good service and such weak spots. WhatsGaming on the other hand has a completely positive profile in terms of service providing for coin transfer. It sounds like self-promotion, and it sort of is, but if you take a look at our several years of serving gamers, you'd give us the point to claim success in gaining our customers' trust. Hopefully we can continue providing satisfactory service for many years to come.
Secure Sockets Layer or SSL
This one is the most important thing for online payments. You should never make any payment on a website that uses http. Make sure the site is on HTTPS protocol just to make sure that the payments are secure enough to avoid your credit card or PayPal account's information being stolen by hackers. This is the FIFA coin selling website's duty to provide secure infrastructure for online transactions.
Prompt Live Support
There are many times that a gamer has some questions before making a payment, no matter how beginner-level the question may sound, so as well as a thorough FAQ section, the FUT 21 Coin selling site needs to have a prompt and helping live support, either with self-hosted chat box or just a link to WhatsApp or similar IM apps.
There are of course other requirements to asses the FIFA Coin websites of course, such as, the number of years the site has been operational or the number of customers they've served, so, it's recommended that you evaluate the seller of FIFA 21 Coins carefully and patiently because the life of your account depends on it.
Methods to Buy FUT 21 Coins
There are different methods to transfer FIFA 21 Coins to your own account, namely Player Auction and Comfort Trade.
Both methods have their own pros and cons, so it's not really possible to tell you which one is the best. You should evaluate both methods and pick the one that fits your preferences best.
We have already explained Comfort Trade and Player Auction in details in our blog, but as a rule of thumb:
Player Auction
User takes control of the whole transaction. He or she adds players to the Transfer Market that are bought cheap and sold at a higher BIN price to the coin supplier. And in return, you'd receive some FIFA 21 Coins equivalent to what you paid for.
Comfort Trade
Comfort Trade on the other hand is useful for those who don't want to go through the bothersome process of selling players and just want to provide the login information with the 3rd party website to take care of the whole transaction themselves. And access the account once the FUT 21 Coin transfer is done.
How to Buy FIFA 21 Coins Safe
Now that you know what methods are out there to choose for buying FIFA 21 Coins, it's important to choose the safest method to buy the coins and keep your account safe.

BUY SAFE FIFA 21 COINS NOW!
You should never ever provide your account's login info and backup codes with a Website or other entities that might abuse your data. In other words, you should only trust websites with purely positive reputation and trustworthiness just to keep your account away from scams or frauds who want to steal your hard-earned FIFA 21 Coins.
That's why you should really be careful with Comfort Trade because the credentials should never be disclosed with such abusers. So, Player Auction seems to be a far more safer method to buy FUT 21 Coins with, but even with that method, you should be careful, because new accounts, depending how old they are, how many games you have played or won, etc, might end up banned by EA because EA does not want to see accounts transfer coins between each other. So, you should consult with WhatsGaming's experts beforehand just to make sure that your account's safe enough to finalize the coin transfer without any problems. It's one of our pleasures to answer your questions and make sure you're on the safe side when buying coins from us, so feel free to ask anything you want to know about the transfer process.